2005 Suzuki DL650 V-Strom Long Term Review (by owner)
Review Last Updated: 2021
Vehicle Type: Street Bike, Adventure Touring
Evaluation Period: 11 years, 32,000 km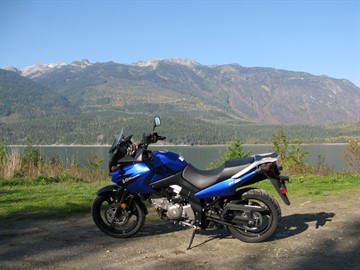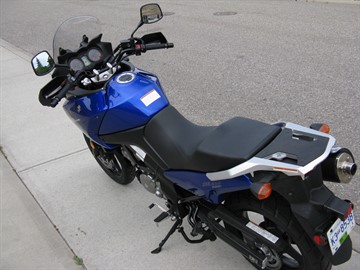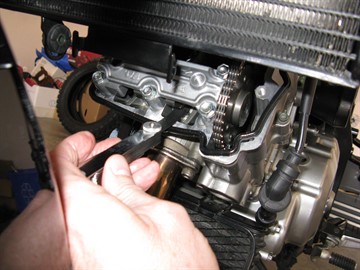 All Photos
Pros
The motor, long distance comfort, versatility, reliability
Cons
Feels a bit top-heavy when fully fueled, tall seat for some, windscreen could be better
Comments
I purchased my V-Strom 650 new in the spring of 2005. I only put about 32,000 km on it, which I admit is not much for eleven years of ownership, but there were a few seasons that I didn't have much opportunity to ride, and later I was doing more dual sport riding.
The V-Strom 650 (aka Wee-Strom) is a great all-around street bike. It handles quite well, although not as well as a true sport bike on good pavement, but it will easily go places that you wouldn't want to take a sport bike. It makes a good light weight touring bike although it's not as comfortable as a purpose-built touring bike; it makes a good commuter too. You can ride it down a gravel road or an easy trail, but it's not going to go everywhere a true dual sport can. It's not the best at any one thing, but it is very versatile.
The bike has been criticized for its appearance, but I think it looks okay. I think this generation looks better than the 2017+ version, and I think the fit and finish and sense of quality is better than the newest version. The 2017+ version looks kind of cheap (cheap looking plastic, less painted surfaces, plastic luggage rack, no 4-way flasher, less weather protection, loss of side-by-side headlights that were on at the same time, there's a gap under the lower seat edge, etc. I've ridden a second-generation V-Strom 650 but not the current version.
I've found the bike reasonably comfortable and have ridden it more than 750 km in a day. Yes, my bum was getting a little sore by the end of the day, but not too bad. I've ridden bikes that have had far worse seats. The weather protection is decent, but the windscreen is not the best. I think the problem is that the windscreen is too far forward. When riding in "dirty" air (like when following a large vehicle on a major highway) there is a fair amount of turbulence around your helmet. When riding on a secondary highway with little traffic I find that the windscreen is adequate. I've never found the windscreen bad enough that I felt I had to replace it, although many riders do.
The V-Strom really shines when riding on back roads, especially if the pavement is a bit rough (frost heaves, cracks, patches, etc.). The suspension is well suited for less-than-ideal road conditions. If you ever have to ride through stretches of road construction, you have no need to be concerned because the bike handles gravel and rough roads just fine.
A few features that make this bike a good light weight touring bike are that it has a large fuel tank (22 l), low fuel consumption (23 km/l = 65 mpg), a wide, reasonably comfortable seat, decent weather protection, an upright riding position and a standard luggage rack. There are a number of factory and after-market accessories available like side cases, engine guards, top boxes and seats.
The motor is very smooth; it is much smoother than the motor in the Kawasaki Versys 650 (including the latest iteration) and the Honda CB500X. The motor has a strong low and mid range with decent power on top. Acceleration is reasonably brisk. At an indicated 100 km/h, the engine is spinning at about 4600 rpm when in 6th gear, so it's quite relaxed feeling. The bike is fuel injected, and fueling is good for the most part. At a constant low speed with low load on the engine, there can be a bit of surging. At highway speeds it's not detectable.
The bike was reliable. I did not have any issues at all except for having to replace the fuel filter (expensive part) at 30,900 km (the fuel pump had started making a high-pitched noise). Maintenance requirements are minimal. Basic maintenance is very simple. The valves clearances were checked at 25,000 km, and only one front exhaust valve was slightly tight (.01 mm less than spec.). Access to the rear valves is easy once the fuel tank is removed. The fuel line at the tank is easy to disconnect. Access to the front valves is quite restricted because of the radiator and radiator shroud. There is barely enough room to use a torque wrench on the valve cover bolts. There is adequate room to measure the valve clearances, though. In order to adjust the valve clearances, the cam chain adjusters need to be removed. Access to the cam chain adjuster mounting and cap bolts is limited. The spark plugs looked okay (minimal wear) at that time, but were replaced anyway during the valve clearance inspection because it's a bit of a hassle to get at them. The original battery was getting weak in the fall of 2013, so I replaced it the following spring.
The original tires worked well on the road. I replaced both tires with Michelin Anakee 2's at 21,400 km. The rear should have been replaced a bit sooner, but the new tires were on back order. The front showed cupping (uneven wear) at that time, so it was replaced even though it wasn't worn down to the wear bars yet. The Anakee 2s work well, and I liked them. The front seemed to have quickened the steering somewhat. Other additions to the bike included the Suzuki centre stand and hand guards. Other than that, I kept the bike stock.
The bike feels a bit top-heavy when lifting it off the side stand when fully fueled. Once moving the top-heavy feeling goes away. The seat height is about 32 inches and may be a bit high for some riders; the seat is also wide making it more difficult to put your legs straight down. The seat on the newer V-Strom (2012+) is higher, but the seat is a bit narrower at the front.
Comparing the V-Strom 650 to other bikes
There aren't that many comparable bikes priced close to the V-Strom. There's the Honda NC750X, Honda CB500X, Kawasaki Versys 650 and maybe you could consider the Kawasaki KLR650, although it's really in a different class (it's a heavy dual sport). They could all be considered good choices depending on your priorities. I've test ridden an NC700X, NC750S, CB500F, 1st and 2nd generation Versys 650 and a 2008 KLR650.
I kind-of like the NC750X, but I prefer the motor in the V-Strom; the motor in the NC750X is a little too mellow, although it's very smooth. I don't care for the under-seat fuel cap because it makes using the passenger seat for carrying luggage a hassle. Fit and finish is good. It has a 17-inch front wheel. A centre stand is available from Honda.
I think the CB500X is a nice bike, and about 19 kg lighter than the V-Strom, but I found that the motor is really buzzy over 6000 rpm; it's smooth below that speed. The bike is also down quite a bit on power compared to the V-Strom and Versys 650, especially if you ride two-up. The power is adequate for solo riding. The latest version has a 19-inch front wheel like the V-Strom; the earlier bikes have a 17-inch front wheel. It's about $2100 less than the base V-Strom msrp, so that's attractive. A centre stand is available from Honda.
Let's look at the Versys 650. It is quite a nice package that comes standard with quality hard bags. There is no centre stand available from Kawasaki, but I think that there is an after-market one. The bike has a 17-inch front wheel. What puts me off this bike is the high level of vibration and the poor low speed fueling (in the bikes that I have ridden). This bike is just too buzzy for my liking. The vibration can be felt in the grips, seat and foot pegs. The throttle is like an on-off switch; it's very abrupt at low speeds, but it's not really an issue at highway speed. If these things don't bother you then this might be a good choice in a smaller touring bike.
The KLR650 is much better suited for riding dirt roads (and trails) than the V-Strom. The V-Strom is really a street bike. The KLR is not as refined or as powerful as the V-Strom, but the KLR650 costs a lot less. The KLR650 is a reasonably comfortable, long-range dual sport capable of going most places. It has spoked wheels with a 21-inch front. (The V-Strom XT model introduced in later years comes with spoked wheels, but the base model and older bikes have cast wheels.) The 2022 KLR650 has numerous updates, including fuel injection and available ABS, and is almost as heavy as the V-Strom.
Last Words
All in all, the V-Strom 650 is a great all-around street bike that is quite comfortable for long distance riding and handles quite well during spirited riding on back roads. It has a great motor that makes more than adequate power for most riding situations. It is very versatile and reliable. It has been one of the better bikes that I have owned. I sold the bike in 2016 with about 32,000 km on it. I came close to buying a new one a couple of times when the prices were better than they are in 2021. So, would I recommend the bike to others? Absolutely!
All Photos