2016 Honda CB500F Review (Impression)
Review Last Updated: April 2, 2022
Vehicle Type: street bike
Evaluation Period: part day, 70 km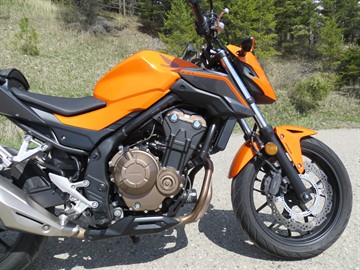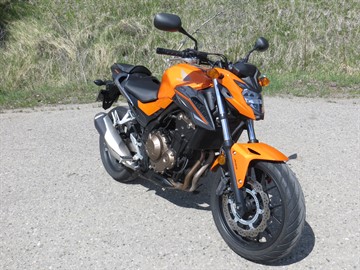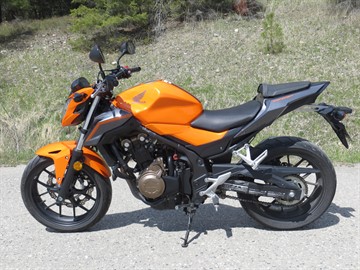 All Photos
Pros
fun to ride on backroads
Cons
high frequency engine vibrations over 6000 rpm, a bit of wallowing after hitting a bump
Comments
The 2016 Honda CB500F that I test rode had about 5600 km on it. I only had the bike for a short time and rode it about 70 km, so this can't be considered a full review of the bike, but I'll give you my impressions of it anyway.
Fit and finish was pretty good for an entry level motorcycle. It's not as good as the more premium bikes in Honda's lineup, but that's expected. The styling is like many other current naked sport bikes - not really my cup of tea, but looks are subjective. I don't particularly like that the passenger seat is high up with a large gap between the rear tire and tail section.
There is adequate power for solo touring, but you may want more power if you ride two-up in the highway. Gear changes were smooth, but I thought that the clutch lever effort was a bit high for a small bike; the 2019 models use a slipper clutch which reduces the effort. Fueling was ok; on/off throttle transitions were typical of a lot of fuel injected bikes: a bit abrupt at low speeds.
The handling and suspension were ok, but I detected a very slight amount of wallowing when hitting bumps in corners; it wasn't bad, though. The brakes offered good feel.
Below about 6000 rpm the engine is relatively smooth, but above that it's really buzzy (high frequency vibrations). At an indicated speed of 100 kph in top gear the engine is spinning about 4900 rpm, so vibrations at that speed aren't really an issue. However, you're going to have to venture into the higher rev range for freeway riding, down shifting to pass on the highway or possibly to maintain speed on steep inclines at higher elevations or under heavy load. Plus, when you're accelerating just to get up to cruising speed or for more spirited riding, then you're going to be spending time in the upper rev range, and means dealing with the tingling vibrations the motor in this motorcycle produces. It's something to consider.
Last Words
The Honda CB500F is a nice little bike that's fun to ride on the backroads. For me personally, I would want a bit more power and some wind protection (the CB500X has a fairing). I also really don't like the amount of high frequency vibrations this bike produces over 6000 rpm. If I was going to buy a Honda 500, I would choose the CB500X over the CB500F. The CB500F has a lower seat and feels lighter that the CB500X, though (the 2021 CB500X seat is 45 mm taller and the bike weighs 8 kg more). The Honda 500 range has been updated again for 2022 with inverted forks and twin front disk brakes. There are some other small changes too. It is becoming a more appealing option, so maybe I should give it more serious consideration (seeing as it doesn't look like a new Honda Transalp is going to arrive here this year).
All Photos