2017 Kawasaki Versys 650 LT Review (Impression)
Review Last Updated: Feb 27, 2022
Vehicle Type: Street Bike, Sport Touring
Evaluation Period: 1 day, 120 km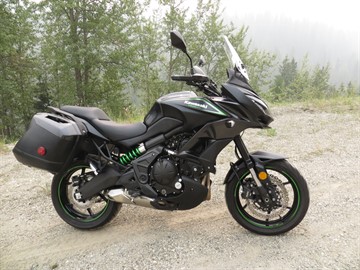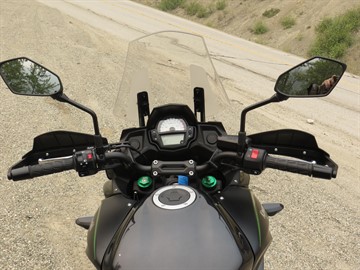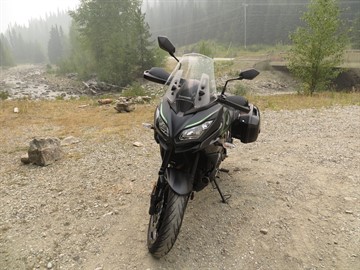 All Photos
Pros
side cases, reasonable comfort (ignoring vibration), appearance, price (pre 2022)
Cons
engine vibration, abrupt throttle response at low speeds, no factory centre stand
Comments
The Kawasaki Versys 650 has been around for several years with major updates for the 2015 and 2022 model years. I had ridden the previous generation of the bike a number of years ago, and while I liked the overall package, I found that there was too much engine vibration. Kawasaki has attempted to address this issue with this latest iteration. My recent test ride of the bike would determine if the problem has been resolved. The bike I rode had almost 6000 km on it and looked to be in near new condition.
I think that the new Versys 650 is a nice looking bike and not as odd looking as the previous version, but looks are subjective. The LT version, the only version available 2016 onwards in Canada, comes standard with side cases and hand guards. The rear suspension preload is remotely adjustable like on the Suzuki V-Strom 650. The front inverted forks are also adjustable. The windscreen height is easily adjustable via a couple of knobs in front. The fairing and windscreen look to provide decent wind and weather protection. It has a comfortable riding position (for me, anyway) and a reasonably comfortable looking seat. These are all features that would lend themselves to making this a good mid-size touring bike. Let's get to the riding impression.
So, off I go riding through an industrial park to get a feel for the bike before I get into traffic. I roll on and off the throttle and the bike lurches; the throttle is like an on-off switch; it's very abrupt at low speeds (it's not an issue on the highway). This is a disappointment. I try to be controlled with the throttle, and while the situation improves, it's still an issue especially in slow speed corners and stop and go traffic. The other thing that really sticks out in the first sharp corner I make, is the heavy steering or resistance to leaning over. I checked the tire pressures soon after that. The tires were over inflated according to the label on the swingarm, but that should not have been a factor, but I let some air out of them anyway. I didn't notice any change in the steering as a result. It doesn't require a lot of effort to make the bike lean over initially, but it does require a lot more effort than I would have expected to lean it further; the bike resists, and you really have to put a lot of pressure on the handle bars to make it really heel over. I wasn't riding aggressively either. I found it quite surprising for a sporty bike. Perhaps different tires would improve things. The bike was very stable a highway speeds including sweepers.
The deal breaker for me, though, was the level of engine vibration. This motor is buzzy! The vibration can be felt through the grips, foot pegs and seat. The vibration was a constant annoyance and never faded into the background. For 2015 onwards rubber engine mounts are used. The handlebar is supposedly rubber mounted a well. I was really expecting that the engine vibration would be much more subdued, but it's not. It's probably an improvement over the previous generation of this bike, but there is just too much high frequency vibration for my liking. That's really unfortunate, because this is a really nice bike otherwise (with the exception of the abrupt throttle response at low speeds). At an indicated 5000 rpm in top gear, the speedometer was showing about 107 km/h. The engine vibration is evident over 4000 rpm. I've ridden the Honda NC700X and NC750S which also have a parallel twin, and they were a lot smoother than this Versys. The 90-degree v-twin in the V-Strom 650 is really smooth as well. The motor makes adequate power, but I thought it felt a bit less powerful than the V-Strom 650 (I'm not sure of the actual output of the two motors though). Gear changes were fine.
I had read that the suspension was overly firm on the Versys, but with the rear preload backed off, I found that the suspension was plush enough even on moderately rough pavement. I didn't play with any other suspension settings.
The wind and weather protection from the fairing and windscreen are limited but adequate. I could feel the wind on my upper arms while riding at legal highway speeds even though I was wearing a fairly heavy riding jacket. With the windscreen in the highest position, I didn't notice much wind noise around my helmet (I wear ear plugs). There was more wind noise with the windscreen in the lowest position. I don't think that the weather protection is as good as that of the first-generation V-Strom.
The seat on the Versys 650 is okay, but I didn't find it as comfortable as the one on my 2005 V-Strom 650. I've ridden as much as 750 km in a day on the V-Strom without too much discomfort in my backside, but I don't think that would be the case on the Versys. After two hours with the bike, my butt was getting a bit sore. Other riders may find the seat just fine.
When the current version of the Versys 650 became available I considered buying one to replace my 2005 V-Strom 650. I was looking for a bit of a change, but I also didn't want to venture too far from the concept that the V-Strom embodied. I wanted a comfortable, mid-sized motorcycle with an upright riding position suitable for long distance riding. Large touring bikes, sport bikes, cruisers and high-performance adventure bikes were not on my list. At the time I thought that the second-generation V-Strom 650 still looked better (especially in red) than the restyled Versys, but again, looks are subjective. When a good deal came up on a new, non-current 2015 Versys, I almost bought it. I hadn't ridden one at that point, and I was unsure about the bike after I had read some criticism about the fueling and firm suspension. A couple of times I have considered buying a used one or another discounted non-current one, but I was always a bit unsure. After test riding a 2017 Versys 650 I am no longer considering buying one; I just don't think I would be happy with it because of the level of vibration.
Another issue that I have is that Kawasaki does not make a centre stand for this bike (there are after-market ones available, but some reports indicate that chain clearance may be an issue, at least for one of them). I think that the lack of a centre stand is a mistake on a bike aimed at touring. Although there is an under-engine exhaust system, why couldn't it have been designed to work with a centre stand like on the Yamaha Tracer 900 / FJ-09? It's a real pet peeve of mine that more motorcycles do not come standard with a centre stand; many of the older motorcycles did.
Comparing the 2017 Versys 650 LT to other bikes
There aren't that many comparable bikes priced close to the Versys 650. The closest competitor is the Suzuki V-Strom 650. Other choices might include the Honda NC750X, Honda CB500X, Yamaha FJ09 or first-generation Tracer 900. Of course, there might be something new coming next year. For my thoughts on some of these bikes, see my review of the 2005 V-Strom 650. There are a number of mid-sized unfaired bikes too, but I wouldn't consider those direct competitors.
Last Words
Overall, the Versys 650 is a nice, attractive looking motorcycle suitable for touring and everyday use, and it comes with what look to be good side cases, all for not a bad price. If the vibration and abrupt throttle response at low speeds are not major issues for you, you may be very happy with the bike. It's just not for me because of those issues. Perhaps the fueling has been improved in the later model years, but I doubt the vibration issue has. Personally, I would choose a V-Strom 650 over the Versys 650, but I know that some Versys 650 owners really like their bike.
The 2022 Versys 650 has changes to the fairing, windscreen, instruments, headlights and has added traction control, oh, and in Canada at least, the price has gone up a lot (MSRP is up $900); I'm not aware of any changes to the chassis or engine, so it's probably just as buzzy as the 2017 model I rode.
All Photos