Ride: Aberdeen Plateau - Bluenose Road, Aberdeen Lake FSR, Dee Lake Road, King Edward Connector, King Edward FSR
South of Vernon and Lavington. Gravel roads, FSRs and ATV trails. Many fishing lakes and camping locations. Endless kms of roads and trails of varying condition in the area.


Last Ridden: 2022 (portions), 2020 (the entire loop), 2018 (Alex Road / K17 Connector)
Province: BC
Region: Okanagan
Route Type: Forest Service Road, Gravel Backroad, ATV Trail
Riding Surface: Packed Gravel (50%), Dirt (50%)
Most Suitable For: Dual Sport
Also Suitable For: Adventure Bike, Dirt Bike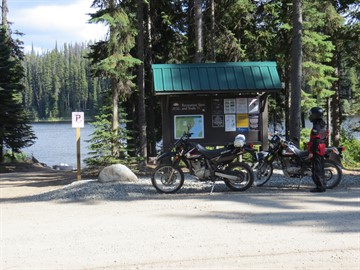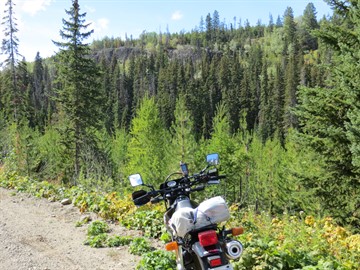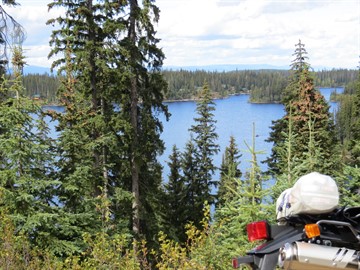 All Photos
GPS Files
Hwy 6 - Bluenose Rd - Aberdeen Lake FSR - Dee Lake Rd - Beaver Lake - Track.gpx
Swalwell Lake to Hwy 6 via King Edward Connector - Track.gpx
Alex Rd and Dee Lake Rd to Kind Edward Connector - Track.gpx
Download GPS File(s)
I've primarily mapped out a loop beginning and ending in Lavington. The area is also accessible from Oyama, Lake Country (Winfield) and Hwy 33. The main FSRs are easily traveled on adventure bikes. The main gravel roads and some of the main FSRs can be ridden on many street bikes (and cars), but watch for potholes. There can be some mud if wet. There are numerous fishing lakes in the area, some with developed campsites. The side roads into some of the lakes are rough and some can be quite muddy, but some are fairly easy gravel. Some of the trails, connecting FSRs and decommissioned roads can be rough with rocks and mud and are more suitably ridden on lighter dual sports or dirt bikes. A lot of these trails are very muddy with large puddles in the spring after the snow melts - some sections can be completely flooded.
The loop begins with Bluenose Road which becomes Aberdeen Lake FSR. Bluenose Road can be accessed from Hwy 6 via Learmouth Road or School Road and Reid Road. From Aberdeen Lake FSR take Dee Lake Road. The route goes past Loon Lake, Doreen Lake, Dee Lake, Island Lake, Lost Lake and Swalwell Lake (Beaver Lake). Across from the entrance to Beaver Lake Mountain Resort along Dee Lake Road, the route continues along a secondary FSR (is, or becomes King Edward Connector) to above Oyama Lake and then to King Edward Lake and King Edward Road / King Edward FSR back to Hwy 6. Dee Lake Road becomes Beaver Lake Road and will take you to Lake Country.
Bluenose Road, Aberdeen Lake FSR and Dee Lake Road is the smoother, better maintained and easier to ride route, especially for more road focused bikes. There are a lot of potholes along Aberdeen Lake FSR, though. Starting from Hwy 6, King Edward FSR is steeper, rougher, has a lot of washboard and can have some muddy sections. It also has a number of switchbacks that are often strewn with small loose rocks. For more of a trail riding experience, you can head up Brewer Road (on left) which leaves King Edward FSR about 4 km from Hwy 6. There are a number of trails and roads between King Edward FSR, Brewer Road and Aberdeen Lake FSR, and some sections of these trails can be very muddy in the spring or after heavy rains.
It is about 38 km from the start of the gravel on Bluenose Road to Beaver Lake Mountain Resort on Dee Lake Road. It is about 12 km from Hwy 6 to King Edward Lake along King Edward FSR. It is about another 19 km from King Edward Lake (the sign for) to the entrance to Beaver Lake Mountain Resort if taking the King Edward Connector.
King Edward Connector branches to the left when heading south on King Edward FSR about 0.5 km from the King Edward Lake sign. If you go right, the road (Oyama Lake Road) will take you to Oyama Lake and eventually Oyama. There is a lookout along Oyama Lake Road that offers great views of the Okanagan Valley and lakes. If conditions are dry, the King Edward Connector is a fairly easy ride on an adventure bike. The road travels above Oyama Lake (good view). The road gets a bit narrower and a bit rougher the further south you travel. There is one moderate hill nearer the south end before Dee Lake Road that may give novices pause, especially if on a heavy bike as there is some erosion and loose rocks (small). If it has rained recently expect some mud and puddles.
Of the uploaded GPS tracks, the most challenging section is Alex Road / K17-Connector which connects Dee Lake Road to King Edward Connector. This is an alternate route to part of the main loop. If you are riding this road on a bigger, heavier bike use caution. It is not well maintained. Expect rocks and mud and tree branches or small logs on the trail. You need to have more dirt-oriented tires. I wouldn't recommend taking a V-Strom through here unless you are skilled, have 50/50 tires and a strong skid plate. I didn't have much trouble on my DR650, but the muddy sections would have been easier if my rear tire hadn't been so worn. I haven't ridden this entire section since 2018.
You can also take Echo Road from Dee Lake Road to King Edward Connector. Part of it is in pretty good condition (2018), but if you continue past King Edward Connector, it gradually deteriorates and eventually reaches a point where it is decommissioned (berm and small creek at about 10 km from Dee Lake Road). I've only ridden a short distance past the berm; the trail was partly overgrown, and there were small logs across it and a partial washout.
There are a number of other routes that connect Aberdeen FSR to King Edward FSR. In the spring, or after heavy or prolonged rains, these trails can be very wet (large puddles) and muddy. Some of them have moderately to quite challenging rocky and/or slippery sections, depending on your skill level and the bike you're riding. I wouldn't classify the ones that I've ridden as expert or black diamond trails, though; I would say they're more in the range of easy/novice to intermediate if on a lighter dual sport or dirt bike. A particular trail may start off easy, but if it starts to get too difficult just turn around.
As mentioned earlier, there are a lot of other trails and roads on the Aberdeen Plateau and in the surrounding areas. I'll try to document some of them. Happy riding / exploring!
All Photos