Ride: Chase-Falkland Rd and Skimikin Rd / Skimikin Lake Road
Falkland (Hwy 97) to Turtle Valley and Tappen (Hwy 1 about 11 km west of Salmon Arm) via Chase-Falkland Road, Skimikin Road, Skimikin Lake Road and Tappen Valley Road. Total distance is about 68 km with about 25 km of that good gravel roads.


Last Ridden: Sept 21, 2021
Province: BC
Region: North Okanagan, Shuswap
Route Type: paved back road, gravel back road
Riding Surface: pavement (63%), packed gravel (37%)
Most Suitable For: Adventure Bike
Also Suitable For: Street Bike, Dual Sport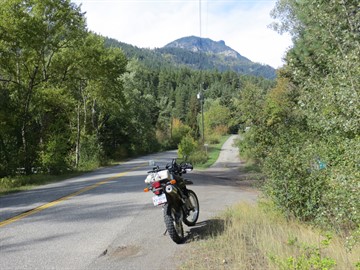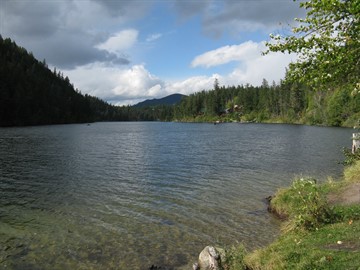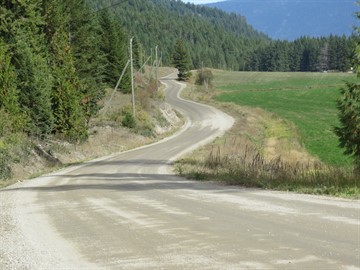 All Photos
In Falkland turn off Hwy 97 and north on Chase-Falkland Road. The road is paved for about the first 17 km and is moderately twisty (there are some nice corners), but the pavement is in only fair condition for the most part (broken pavement and patches). The first stop is Joyce Lake which is about 9.5 km from Hwy 97. There is a BC Recreation Site there with camping and lake access. Pillar Lake is about 3 km further down the road. There is a day use area there. A few km past Pillar Lake the road turns to good hard packed, oiled gravel. There are some small patches of looser gravel, so use some caution. The gravel lasts for about 6.5 km.
The seconds section of pavement is maybe in a bit better condition than the previous stretch. The road rises and drops with plenty of corners. The road travels through forested areas and along ranchland. Chase-Falkland Road intersects with Skimikin Road at about 38 km from Hwy 97. Although the defined route follows Skimikin Road on the right, I did ride further (straight) along Chase-Falkland Road for about another 6 km to check it out. The first 4 km are quite twisty, rises and falls and makes it's way towards Hwy 1. There is a good view point of the valley at that point. Head back to Skimikin Road.
Skimikin Road turns to gravel almost immediately. The surface is in pretty good condition, but it's not quite as smooth as the gravel section on Chase-Falkland Road; there are some small potholes, more and larger patches of looser gravel (you can skirt past them), and it's a bit bumpier in places further on. I would still consider it as a good gravel road suitable for most street bikes. Skimikin Road becomes Skimikin Lake Road. There is an intersection (no visible signs last ride) about 7.4 km from Chase-Falkland Road; go straight. The gravel lasts for about 18 km. Around where the pavement begins is Skimikin Lake Recreation Site (day use and camping).
The final stretch of pavement (11.5 km) is in good condition and has plenty of curves, especially the first half. Skimikin Lake Road intersects with Tappen Valley Road (go right), which will take you to Hwy 1 where the route ends. Salmon Arm is about 11 km to the east with the turn-off to Salmon River Valley (Salmon River Road) on the western edge of town (there's a highway sign).
When I did this ride last (Sept 21, 2021), the gravel sections were fine for all street bikes; I saw another DR650, a cruiser, V-Strom and a couple of other street bikes on Chase-Falkland Road. Note that distances are approximate.
All Photos