Ride: Creighton Valley Road, Echo Lake
Creighton Valley Road begins just east of Lumby and runs roughly parallel to, and south of Highway 6 and passes through Echo Lake Provincial Park. Paved on both ends with the middle 20 km smooth hard-packed gravel. Scenic.

Last Ridden: June 7, 2023
Province: BC
Region: Okanagan
Route Type: paved backroad, gravel backroad, secondary highway (Hwy 6)
Riding Surface: pavement (~ 50%), packed gravel (~ 50%)
Most Suitable For: adventure bikes, dual sport
Also Suitable For: most street bikes (but use caution on gravel sections)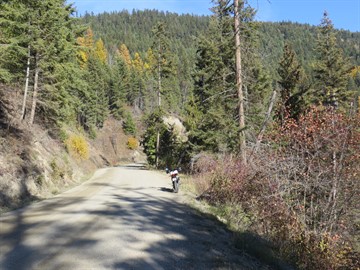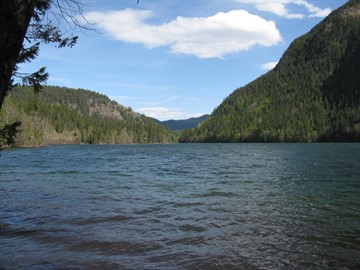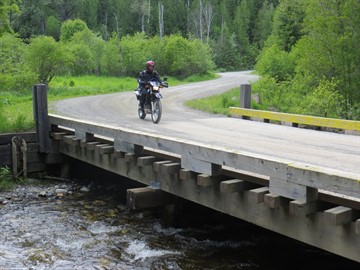 All Photos
Both the east and west ends of Creighton Valley Road intersect with Highway 6. The road starts and ends with pavement. There is about 20 km of hard-packed gravel road between the paved sections. The west end of the road starts a little more than a km east of downtown Lumby. The road is on the right when heading east (look for a small road sign).
The road runs through a narrow valley past farmland and through Echo Lake Provincial Park. There are no public facilities in the park, and you are not permitted to camp overnight, but there are a number of places you can pullover and access the lake via some short paths. The lake is popular for fishing, but there is no public boat launch. There are a couple of private resorts along the lake (probably from before the park was created). There are a couple of other small lakes west of Echo Lake that are visible from the road but not accessible from it. It's a very scenic area. As an alternative to the eastern bit of Creighton Valley Road, you can take Puckett Road (on north side) which also intersects with Hwy 6.
The gravel section was in pretty good condition in June 2023 and should be ridable on most street bikes, although an adventure or dual sport bike would be the better choice. I rode the entire length of the road a number of years ago, east to west, on a V-Strom 650 without any problems except it being very dusty at the time. The western section of gravel road ending near the east end of Echo lake is easier for street bikes and is not as dusty if dry; there are some small potholes and bumps, but mostly it's pretty smooth and sealed. After heading east uphill past the lake, the gravel road levels out before descending even further down the other side. It might be a bit dicey with street bike tires, so use caution. There are a few tight, downhill corners along the way. The road winds through forest and is hard-packed and smooth with some fine gravel on top. The road travels past a ranch, a bible camp, recently logged areas and across a bridge over a creek before heading uphill again before becoming paved once more.
It is about a 116 km round trip starting on Hwy 6 from downtown Vernon, to Lumby then along Creighton Valley Road to Puckett Road to Hwy 6 and then back to Vernon along the highway. It's a little over 2 hours of riding time plus stops.
All Photos