Ride: Green Mountain Road, Apex Mountain Road, Hwy 3A, White Lake Road - Penticton, Oliver
Green Mountain Road is the main attraction here - a winding back road with some great scenery and light traffic. Side trip up Apex Mountain Road. Optional route to Oliver from Hwy 3A - Twin Lakes Road, White Lake Road, Fairview White Lake Road, Willowbrook Road, Fairview Road.

Last Ridden: 2013
Province: BC
Region: Okanagan
Route Type: paved backroad, highway
Riding Surface: pavement (100%)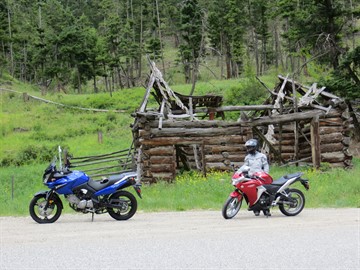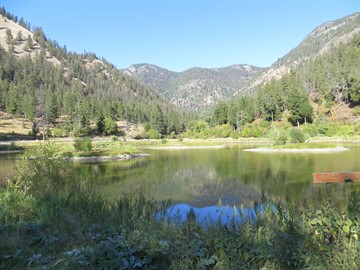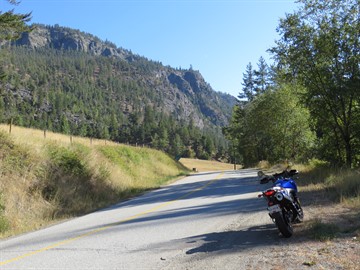 All Photos
In Penticton Green Mountain Road is accessed from Hwy 97 / Channel Pkwy. Look for a sign indicating the route to Apex Mountain Resort. The speed limit is 60 km/h. The first 13 km or so runs through the Penticton Indian Reserve. There are numerous signs indicating that the road is private, so just stick to the road. This is a nice backroad no matter what kind of street legal motorcycle you ride. The road is narrow and quite twisty along some sections. It never gets boring. The scenery is great, and there is a nice little lake along the way. I really like this road, and I would ride it more frequently, but it's about a two-hour trip along often congested Hwy 97 just to get to Penticton from where I live.
At about 20.6 km from the Penticton end of Green Mountain Road, you have the option to turn off onto Apex Mountain Road for a side trip. This is a fun road to ride with good pavement and lots of corners including several hairpin turns. The route is about 12 - 14 km one-way, depending how far you choose to ride into the village area at the resort.
Green Mountain Road intersects with Hwy 3A about 13.5 km from Apex Mountain Road. Hwy 3A can be quite busy, but the route is still enjoyable to ride. The route takes you past Yellow Lake, which is quite pretty. There is some other nice scenery and some great sweepers. There are some 40 - 60 km/h corners, some gentle curves and some straight sections. Hwy 3A intersects with Hwy 97 about 19 km from the Green Mountain Road turn off.
Optional Side Route To Oliver
Instead of taking Hwy 3A from Yellow Lake to Hwy 97, turn right on Twin Lakes Road which is a little over 1 km east of Yellow Lake along Hwy 3A. It's a narrow, meandering paved backroad. Turn left (east) on White Lake Road which will take you to the NRCC Dominion Radio Astrophysical Observatory. You can take White Lake Road to Hwy 97, or you can ride south on Fairview White Lake Road to Willowbrook Road to Fairview Road to Hwy 97 in Oliver (about 31 km from Hwy 3A near Yellow Lake). You can then head north on Hwy 97, or you can cross Hwy 97 on Fairview Road which becomes Park Dr, and then go north on Tucelnuit Dr which intersects with Hwy 97 about 5 km further on (and about 5 km south of Vaseux Lake).
All Photos