Ride: Harris Creek Road, Home Road, Gunnar FSR, Kettle River FSR, Winnifred Falls
Take Creighton Valley Road (just east of Lumby) to Harris Creek Road, Home Road, Gunnar FSR, Kettle River FSR, south to Winnifred Falls, then north to Hwy 6. Fairly easy ride (unless wet, then muddy sections) suitable for dual sports and adventure bikes.

Last Ridden: Sept 24, 2021
Province: BC
Region: North Okanagan Monashees
Route Type: Forest Service Road, paved backroad
Riding Surface: gravel and dirt, some small rocks
Most Suitable For: dual sport
Also Suitable For: adventure bike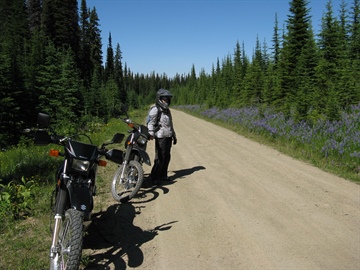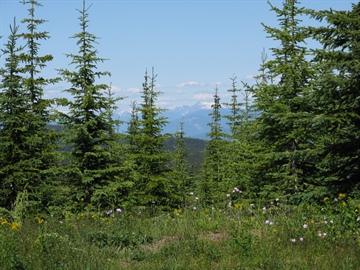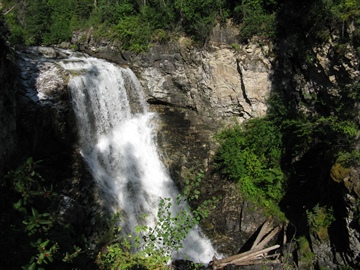 All Photos



GPS Files

Harris Cr - Harris Home Rd - Kettle River FSR - Track.gpx

SW Denison Lakes - Track.gpx

Download GPS File(s)




Most of the route is along FSRs which were, for the most part, in good condition when last ridden. The route can be easily ridden on either a small or large dual sport bike. If the conditions are dry, or if you've got more aggressive dual sport tires, then the route should be OK for large adventure bikes too. There are some switchbacks with small, loose rocks in the corners. There can be some slick sections if it's wet. Most of the FSR route is gravel / hard pack. As typical of FSRs, the conditions can vary greatly over time due to use and weather. The distance markers along the route appear to be measured (approximately) from Hwy 6 and Creighton Valley Road. There are some good views along the way, especially of the Monashee mountains. The route reaches an elevation of about 1800m and overlaps with the Graystokes snowmobile trail network.

The road surface gradually degrades the further you go until you near Kettle Valley FSR. The degradation begins to be noticeable after the 32 km marker, but the road is still in pretty good condition at this point. The next 12 km or so the road degrades a bit more quickly. There are some shallow ruts and embedded rocks and the road becomes narrower. I should mention that there are some narrow sections and blind corners along the road early on as well, and you need to be aware of oncoming vehicles including logging trucks (I encountered one when heading up on my last ride). There is a lot of evidence of recent logging activity in the area.

At the 45.7 km marker the road becomes Gunnar FSR (there is a topped tree with Gunnar and Home signs and distance markers). From here it is about 13 km to Kettle Valley FSR. The road becomes rougher, but not extremely so. If you're riding an adventure bike, and you have more street-oriented tires, you may need to exercise a bit of caution because there are some sections that are a bit steeper and a bit rutted with some small loose rocks. There are also more embedded rocks that might pose a risk if you have little ground clearance like on a V-Strom or CB500X. The road descends to the valley bottom where it intersects with Kettle Valley FSR. There are some switchbacks with small, loose rocks and gravel.

It is about 6.7 km south along Kettle Valley FSR to Winnifred Falls (the turn around point for this ride) from where it intersects with Gunnar (66.5 km marker sign). Winnifred Falls is also about 22.5 km from Hwy 6. The falls are near the bridge where Kettle River FSR crosses the Kettle River. There is a pullout area with a picnic table at Winnifred Falls, or at least there was the last time I was there. There is a short trail down to a view point of the falls. Kettle Valley FSR (along the route) is essentially a gravel road. The plotted track shown in the map, and the uploaded GPS file, do not include the ride from Gunnar FSR along Kettle River FSR to Winnifred Falls. The route ends at Hwy 6, and from here it's about 57 km west to Lumby.

On my last ride along this route, I turned around a few km from Kettle Valley FSR because it was getting a bit late in the day. I also rode up Harris Road (go left at the 18.5 km marker) in an attempt to ride into SW Denison Lakes. I made it up 7.6 km before I decided to turn around because it was getting really wet, muddy and slippery (and I was riding solo on my DR650). The trail was getting a little overgrown too. I didn't make it to the lakes, but I did get close. If I had a riding buddy with me, or if I was on a lighter bike, I might have persevered. The road / trail into SW Denison Lakes was supposed to join up with Home Road in a further 5.7 km at about 5.8 km up from the Harris Rd / Home Rd junction at the 18.5 km marker. There are some other roads leading off Harris Rd, and looking at my maps, it might be possible to ride into Denison Lake too (in addition to SW Denison Lakes). Maybe another time I'll explore some more up there.

On Sept 24, 2021 I saw quite a bit of wildlife: about a dozen grouse, 2 deer, 3 small snakes, a black bear and a bobcat! It's the first time I've seen a bobcat in the wild.

0 km - Lumby Shell station, head east on Hwy 6
1.9 km - right on Creighton Valley Road
6.4 km - right on Harris Creek Road (5 km marker)
10.6 km - Harris Creek FSR (left) = 9 km marker
18.2 km - keep right (Harris)
20.9 km - right on Home Rd (Home Lake Rd) at the 18.5 km marker (the road to the left is Harris Rd and goes to SW Denison Lakes)
29.5 km - 27 km marker and cut-off tree with large rock on top
30.1 km - keep left
35.1 km - keep right
45.8 km - 43 km marker - go straight (keep left)
48.7 km - 79 km marker for Gunnar FSR, 45.7 km marker for Home Rd (Home Rd becomes Gunnar FSR)
54.9 km - go left (Haggert on right)
61.7 km - intersect with Kettle River FSR. Gunnar 66.5 sign. Go right (south)
68.4 km - Winnifred Falls (turn around point)
90.9 km - Hwy 6 - turn left (west) to Lumby
148.4 km - Lumby Shell station
Distances are approximate and taken from my odometer.
All Photos