Ride: Hwy 24 - Little Fort to Hwy 97 near 100 Mile House
Hwy 24 from Little Fort (Hwy 5) to a few km south of 100 Mile House (Hwy 97). Ascends from valley bottom to mountain plateau. Gentle curves, light traffic, fishing lakes.

Last Ridden: 2014
Province: BC
Region: Cariboo
Route Type: secondary highway
Riding Surface: pavement (100%)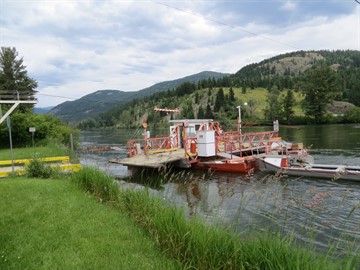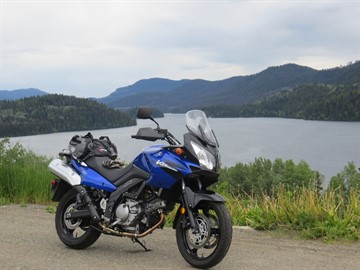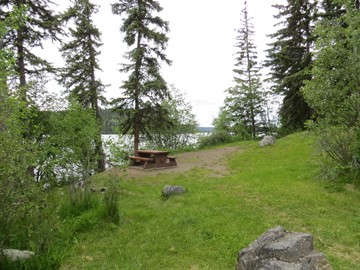 All Photos
Hwy 24 runs between Little Fort along Hwy 5 in the east and Hwy 97 in the west south of 100 Mile House. After leaving Little Fort the highway runs along farm fields before it begins to ascend out of the valley to the mountain plateau (1300+ m). The main ascent lasts several km with passing lanes the entire way and several nice, fast sweepers. This stretch of highway is also know as Little Fort Highway and Interlakes Highway.
Once past the summit, the road mainly cuts through forest, with a series of gentle curves and moderate length straights. There are several lakes in the area, and you can catch limited views of some of them while others are quite visible. There's a rest stop at about 43 km which overlooks Lac des Roche.
Bridge Lake Provincial Park is just off the highway about 8 km or so further west and offers some nice camping (if you can stand the mosquitoes and flies). There are a large number of other lakes along the route and in the region. A lot of potential fishing spots, a lot of trees and a lot of bugs.
Carrying on, there are some nice curves, but nothing marked slower than 70 km/h, no wait, I think there was one 60 km/h corner! There are a lot of straight sections along this highway, but there are enough curves to keep the ride interesting. It's an enjoyable ride, but not good enough in my view to make it a destination ride in itself unless you live in the region or are passing through anyway. That's not to say it isn't worth visiting the area, especially if you like fishing or camping. I clocked a total distance of 103 km. My BC map indicates that the distance is 97 km.
As a side note, there are supposed to be some other good roads in the area including Horse Lake Road (from Sheridan Corner, Hwy 24 to 100 Mile House) and Watch Lake Road, Green Lake Road (from Lone Butte to 70 Mile House). If you're planning to head south on Hwy 97 to Cache Creek later, I would seriously consider this second route as an alternative because Hwy 97 from 100 Mile House to 70 Mile House (and beyond) is pretty boring: straight road through forest and marsh areas.
All Photos