Ride: Lumby to Mabel Lake Provincial Park
A pleasant ride through the countryside past farms, stretches of river, forest and ending at Mabel Lake Provincial Park. The route follows Lumby-Mabel Lake Road and then Mabel Lake FSR. Shuswap Falls is along the way. Distance is about 37 km each way.

Last Ridden: Oct 7 , 2023
Province: BC
Region: North Okanagan
Route Type: Paved Backroad, Gravel Backroad
Riding Surface: Pavement (93%), Packed Gravel (7%)
Suitable For: most street legal motorcycles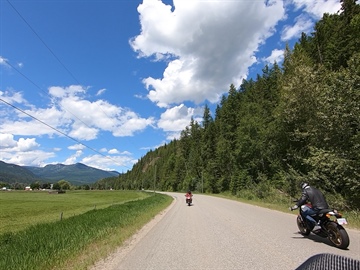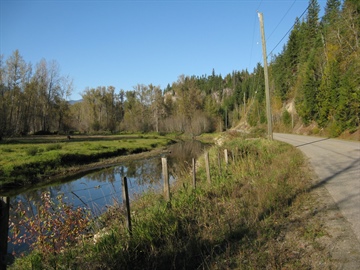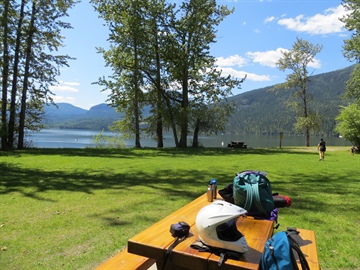 All Photos
Lumby-Mabel Lake Road has some fun twisty sections. The pavement is generally in good condition. Traffic is usually light, depending on the time of day. Watch for logging trucks on weekdays.
The road crosses the Shuswap River at a really pretty spot about 14 km from Lumby. About 0.5 km further is the entrance to Shuswap Falls (Wilsey Dam) BC Hydro Recreation Site, sign and gate on the left. There is a picnic area and a viewing platform a short walk from the parking area.
The pavement along Lumby-Mabel Lake Road ends 34.4 km from Lumby. It's about 2.6 km of hard packed gravel road to the Mabel Lake Provincial Park entrance, and it's a short ride to the parking area from there. There is a beach, boat launch, swimming area, picnic area, playground and camping in the park. It's quite a nice park. A further note about the gravel section above the private "cabins": it's dust-controlled (calcium chloride, I think), and if the road is wet, it will make a mess of your bike, and it will be a big job to clean it; the stuff binds to metal.
Additional Ride Options
You can continue on past the park and ride along FSRs all the way to Three Valley Gap if you want to (see Lumby to Three Valley Gap ride).
Shuswap River Drive is a good gravel road that runs close to the Shuswap River in places. It begins just at the end of the bridge over the Shuswap River along Lumby-Mabel Lake Road. It's about 10 or 11 km long.
If you want to alter your route on the way back, you can take Rawlings Lake Road to Hwy 6 about 5 km east of Lumby instead of riding directly to Lumby. Rawlings Lake Road intersects with Lumby-Mabel Lake Road about 10 km from Lumby.
All Photos