Ride: Lumby to Three Valley Gap to Enderby-Mabel Lake Road via Lumby-Mabel Lake Road, Mabel Lake FSR and Three Valley - Mabel FSR
There are two main legs of this ride. The first leg is from Lumby (Hwy 6) to Three Valley Gap (Hwy 1) up the east side of Mabel Lake via Lumby-Mabel Lake Road, Mabel Lake FSR and Three Valley - Mabel FSR. The second leg is from Three Valley Gap south to Enderby-Mabel Lake Road via Three Valley - Mabel FSR with an optional side-trip to Noisy Creek located on the west side of Mabel Lake. The first leg was passable in 2020 on many street bikes, but I wouldn't choose a sport bike, cruiser or big touring bike; a dual sport, adventure bike would be best. A scrambler would also be fine, I think. Three Valley - Mabel FSR (along second leg) is rougher. You can shorten the entire ride if you head south where Mabel Lake FSR intersects with Three Valley - Mabel FSR instead of riding a further 21 km (each way) to Three Valley Gap.

Last Ridden: 2020
Province: BC
Region: North Okanagan
Route Type: Forest Service Road, gravel backroad, paved backroad
Riding Surface: packed gravel (50%), loose gravel, rocks, sand or dirt (30%), pavement (20%) - approximately
Most Suitable For: Dual Sport and Adventure Bike
May Be Suitable For: some Street Bikes (some sections)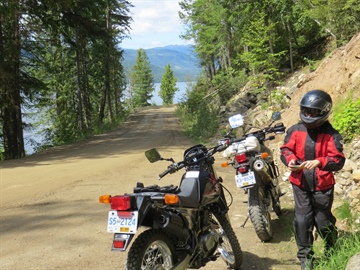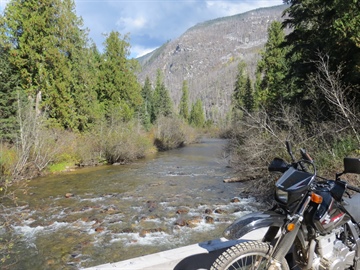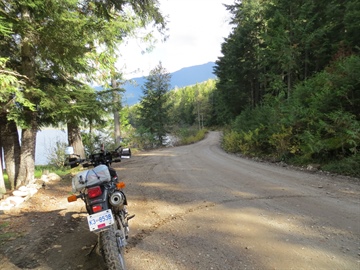 All Photos



GPS Files

Mabel Lake FSR - 3 Valley-Mabel FSR to 3 Valley Gap -Track.gpx

Three Valley-Mabel FSR - Track.gpx

Noisy Creek - Track.gpx

Download GPS File(s)

The portion of the route from the end of the pavement on Lumby-Mabel Lake Road all the way to Three Valley Gap is basically a gravel road that can be driven in a car (at least in the summer of 2020). It's about 37 km from Lumby to Mabel Lake Provincial Park and about 70 km from the park to Three Valley Gap (Hwy 1). It's about 58 km from Three Valley Gap to Enderby-Mabel Lake Road. As mentioned above, you can subtract about 21 km off the second and third stretches if you skip the entire portion of the route north of the intersection of Mabel Lake FSR and Three Valley - Mabel FSR (you don't ride to Three Valley Gap).

The best choice of motorcycle if doing the entire ride would be a dual sport or adventure bike. Mabel Lake FSR and the north section of Three Valley - Mabel FSR to Three Valley Gap should be passable (but maybe not enjoyable) on most street bikes, at least if the conditions are dry. Note that the condition of the FSRs can vary quite a bit throughout the year. Some sections of the FSRs may be a bit rough or loose for some street bikes / street riders. It can be dusty or a bit muddy depending on rainfall. There are / were some sections with a loose layer of coarse gravel on a hard base. There can be a bit of sand too.

Three Valley - Mabel FSR is rougher south of the intersection with Mabel Lake FSR. On my last ride, erosion on Three Valley - Mabel FSR was more pronounced on the north end with some shallow ruts and exposed rocks. There were numerous small potholes along the majority of the road. You should still be able to ride a V-Strom on this road as long as you take it easy along some stretches. The road has a hard base, so even though it had recently rained, mud was not an issue. The last (south) 13 km of the road was in excellent condition. Please note once again that the condition of FSRs can vary greatly over time.

There was a lot more traffic (cars, pickups, SUVs) along Mabel Lake FSR in 2020 than on my rides in previous years. Maybe the traffic increase was related to the pandemic. There has been a lot of logging activity in the region, so watch for logging trucks especially on weekdays. Also note, there was a major wildfire in 2021 above (east of) Mabel Lake FSR north of Mabel Lake Provincial Park. The FSR was closed part of the summer, but it has reopened since; I understand, though, that some of the area impacted by the fire is currently off-limits to the public.

It's a nice street bike ride from Lumby to Mabel Lake Provincial Park (paved except the last 2.6 km) and also along Enderby-Mabel Lake Road (paved).

Trinity Valley Road connects Lumby-Mabel Lake Road with Enderby-Mabel Lake Road and is easily ridden on most street bikes. The road is paved part way on both ends and then become mostly smooth, hard packed gravel (it's almost like pavement in some sections).

Below are some references from a ride where I skipped the section to Three Valley Gap

- 0 km: Lumby Shell gas station, Hwy 6 - take Lumby-Mabel Lake Road (to the north), a very nice ride
- 34.4 km: pavement ends
- 37.0 km: entrance to Mabel Lake Provincial Park
- at about 49 km: roads drops down to shoreline
- 55.6 km: side road on left to Cottonwood Beach BC Recreation Site (camping fees in effect)
- 63.4 km: back to Mabel Lake FSR
- 65.9 km: road has become dusty; a thin layer of sand and loose gravel on a hard base; road gradually narrows with potholes present. Except for the potholes, the road is quite smooth in most sections.
- 72.9 km: road narrow and high above the lake; only glimpses of the lake through the trees; some rocks on road
- there is limited lake access because the road is mostly up above lake on the hillside; there is very little public lake access
- a lot of the road cuts through the trees, so views are limited – it's a nice ride, though
- 93.0 km: bit of an incline, but still passable on a street bike – it's not that steep
- 95.4 km: bridge
- 95.6 km: intersect with Kingfisher FSR / Three Valley Mabel FSR; you can carry on north to Three Valley Gap (Hwy 1) which is about another 21 km, but for this ride I headed south
- road becomes rougher – small rocks / coarse gravel, shallow ruts; still passable on some street bikes, but not the best choice; some inclines, but not steep
- 108.5 km: cross under power lines
- 109.7 km: intersection – kept right
- 112.3 km: the turnoff to Noisy Creek Rec Site; it's about 5 km to Mabel Lake - a nice spot, day use area, boat launch and camping (fees apply)
- 113.9 km: 19 km marker (old) on stump on left; a newer 19 km marker further on; road gradually widens; there are potholes and some ruts; coarse gravel and very dusty
- 133.2 km: Enderby Mabel Lake Road
- it's about 31.4 km to Hwy 97 and 21.7 km to Ashton Creek Store (gas); a few hundred metres before the store is the turn-off to Trinity Valley and Lumby
- Lumby (Hwy 6) is 45.7 km away via Trinity Valley Road. The first 6 km is paved, followed by 28.6 km of good, hard-packed gravel and then 11 km of pavement to Hwy 6. Trinity Valley Road can be ridden easily on just about any street bike.



The distances above include the side trip into Cottonwood Beach Recreation Site (about 7.8 km).
All Photos