Ride: Noble Canyon, Vernon Hill, Becker Lake Area
East of Vernon and north of Lavington. FSRs, dirt bike and ATV trails. A couple of small lakes with camping. A small pond with a nature trail. Views of the lakes and valley. Many kms of roads and motorcycle and ATV trails of varying condition and level of difficulty.


Last Ridden: August 2022
Province: BC
Region: North Okanagan
Route Type: Forest Service Road, double track, single track
Riding Surface: gravel, dirt and mud
Most Suitable For: dual sport, dirt bike
Also Suitable For: adventure bike (depends on the road or trail, and your ability)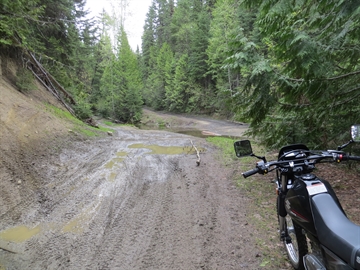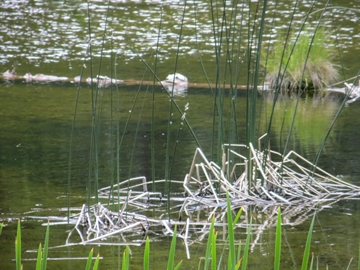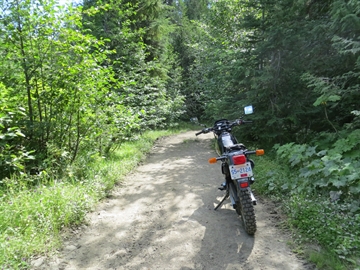 All Photos
This is the main local riding area for Vernon and Lavington, BC. The main access is via Noble Canyon Road, north off Hwy 6 in Lavington. If you're transporting bikes or ATVs, drive a way up the road before unloading so as to not disturb the local residents. The road splits a few (3 or 4) km up the road. The fork to the left heads up to the main riding area (forested trails, FSRs, power line). At about 12 km (14 km marker) on the left there is a rough road to the power line. About 1 km further is the gathering spot for riding club members. There's a bit of a track, some obstacles and trails there. The right fork off Noble Canyon Road leads to Bardolph Lake. There is limited camping at both lakes.
If you keep going on the main FSR past the turnoff to the power line area, you'll reach Becker Lake. Beyond that you'll encounter some nice views of the valley and lakes (Kalamalka and Okanagan). There are a number of trails and roads branching off the main FSR. Before reaching Becker Lake, there is a sign on the left for Pond FSR (or trail); a relatively short ride down that road takes you to the Pond and Aberdeen Trail (a walking trail, so please don't ride your motorcycle on it); it's worth checking out.
If you take the road along the power line right of way, and follow it west, you be rewarded with views of the Vernon area and lakes. You can also access a number of trails from this area, one of which leads to a grassy hillside above Coldstream and Lavington before entering the woods again.
I did a lot of dirt bike riding up here in the 1990s, but I've only been up here a few times more recently and on a DR200. There are a lot of kms of roads and trails in the area to ride and explore. Being close to town, it can get busy in the area when the weather is good, especially on the weekends, so use caution when riding. There has also been a lot of recent logging in area, so watch for heavy equipment and logging trucks on the roads.
You can also access the trail network from Hartnell Road in BX (parking is limited if transporting bikes). If you're starting from Hartnell Road, you will be faced with a long rocky hill early on, but there's a less challenging rocky trail that branches to the left closer to the trail head. The trail gets easier further on. If you're on a light bike and/or you're an experienced rider, then you may find that these routes aren't that difficult for you. This is probably not the best access point for beginner riders, though. There is no access for side by sides or 4x4s here.
One other thing to mention is that some of the trails, roads and open areas can be very muddy in the early season or after heavy rains, with a lot of deep water holes and ruts, most likely dug by 4x4s.
For additional information see the Vernon Off-Road Motorcycle Club website
All Photos