Ride: Perry River Road (North Fork FSR)
A scenic ride along a forest service road beginning about 28 km north of Sicamous on Hwy 1. Road passable on a bike like a V-Strom until you get to a creek crossing at about 29 km. If you can cross the creek, you can ride another 11 km before coming to a complete road washout (in 2012).

Last Ridden: 2012
Province: BC
Region: Okanagan Shuswap
Route Type: Forest Service Road
Riding Surface: dirt (80%), loose gravel (20%)
Most Suitable For: dual sport or adventure bike
Also Suitable For: dirt bike (insured)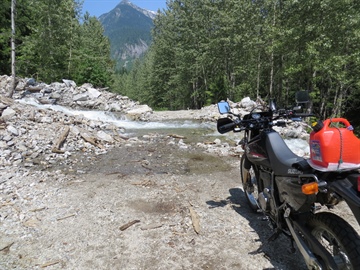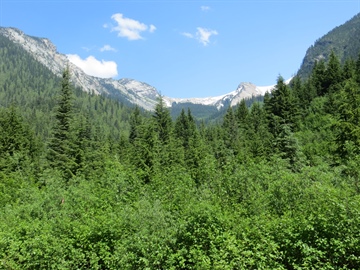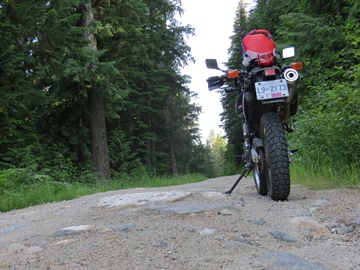 All Photos
I haven't ridden this route since July, 2012, so the conditions may be quite different now. I had planned on riding it again in 2021, but there where a number of wildfires in the area in 2021, so I was unable to. I'll try to ride it in 2022 and then update this article.
The route begins at Hwy 1 and Avoca Road approximately 28 km north of Sicamous. Less than 1 km further up (northeast) Hwy 1, there used to be a gas station and truck stop (just before the bridge over Perry River), but it burned down. I don't know if it was ever rebuilt, so top up your gas tank in Sicamous or Revelstoke. About 0.7 km up the paved road take the left fork (North Fork FSR). There were a number of signs posted; one stated that the road was closed at 28 km to 45 km due to three bridge washouts.
The road was easily passable on a bike like a V-Strom up to the 28 km mark, at least if the conditions were dry. The road was a mix of dirt and gravel. There were a few sandy stretches, but the sand was not deep. If you're riding a bike with low ground clearance be careful; there were some rocks that stuck up high enough to crunch an under-engine exhaust. There were also quite a few potholes along some stretches as well as frequent rocks cresting through the dirt - most were rounded and didn't stick up much. There are some uphill sections, but they are not steep, even for a more street-oriented bike like a V-Strom.
There was a new bridge at 28 km, but there was a creek flowing across the road 1.1 km further up. When I made this trip, the creek was about 10 m across, but half of that width was very shallow - less than 10 cm deep. The other half of the creek was deeper - about axle deep where I crossed (there may be deeper holes). There was white water in the deeper section, so it was difficult to see rocks or holes on the bottom. If you chose to cross the creek, you could ride another 11 km before you came to a complete road washout. The road was a bit narrower and rougher beyond the 28 km mark, and there were some rocky sections (fist sized rocks).
The scenery gets better the further you ride. There are numerous waterfalls cascading down the mountain sides. I did not see any signs of active logging when I made the trip on a weekday. Hopefully the road will be repaired in the future (or maybe it already has been), so you'll be able to ride all the way through to Seymour Arm (Shuswap Lake). Even though you couldn't ride the whole route in 2012, it was still worth riding.
The washed-out bridge was scheduled to be replaced in the fall of 2014, but I don't have confirmation that it was actually replaced.
All Photos