Ride: Revelstoke to Mica Dam - Hwy 23N
A scenic ride with light traffic. The route travels along Lake Revelstoke and the Columbia River. About 308 km round-trip.

Last Ridden: 2013
Province: BC
Region: Columbia Shuswap
Route Type: Secondary Highway
Riding Surface: Pavement (100%)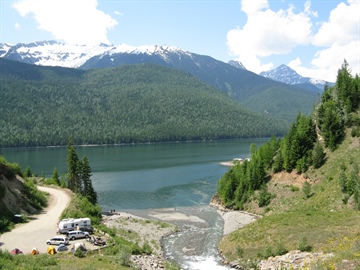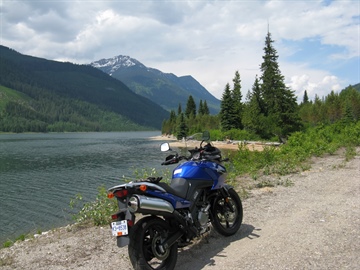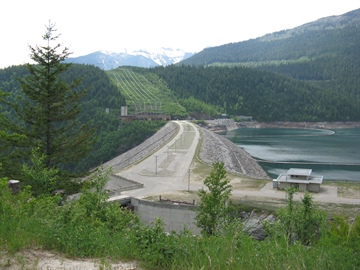 All Photos
Highway 23N north of Revelstoke is also know as Big Bend Highway. It is a very scenic ride with mountain and water views. The highway has a lot of straight stretches with mostly gentle curves and not much change in elevation.
Much of the route (after the first 18 km) follows close to the water with lots of places that you can access it. There are also a lot of creeks. If you're wanting to camp, there are a lot of places to do so with many close to the water's edge. This is in addition to Martha Creek Provincial Park which is about 20 km from Revelstoke. There are some Recreation Sites along the way too: Wadey, Carnes Creek and Downie Creek all have camp sites ($15 / night) and day use areas.
In 2013 the pavement was in fairly good condition, but there were some frost heaves. On my ride, there was very, very little traffic (I saw about 10 vehicles in 130 km on my way back in the mid afternoon).
There are no services (gas or food) along the route, but there are a couple of resorts (one along the way, one past Mica Dam).
Mica Dam is about 154 km from Revelstoke, and the pavement ends just beyond that. You can ride further if you want (I haven't) and have the fuel to do so. There are a couple recreation sites with free camping on the edge of Kinbasket Lake. The closest one (Potlach Creek) is about 4 km past the dam. The other is Sprague Bay.
All Photos