Ride: Salmon River Road, Salmon Arm, Hwy 97B, Deep Creek Road, Gardom Lake, Sleepy Hollow Road, Armstrong, Otter Lake Road

Salmon River Road - YouTube



Starting east of Falkland along Hwy 97, north to Salmon Arm via Salmon River Road, then south along mostly back roads and about 5 km of Hwy 97B, passing through Armstrong and ending near O'Keefe Ranch near Vernon. Plenty of corners, usually light traffic, past small farms, country properties, Otter Lake and optionally the Salmon Arm waterfront and Gardom Lake. The defined route is about 89 km.

Last Ridden: May 28, 2023 (Enderby, Canyon Road, Sleepy Hollow Road, Otter Lake Road), Aug 6, 2022 (all)
Province: BC
Region: North Okanagan
Route Type: Paved Backroad, Secondary Highway
Riding Surface: Pavement (100%)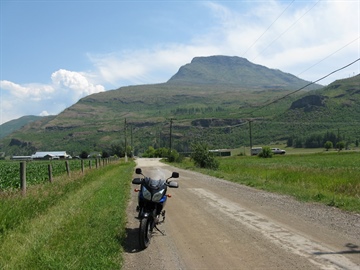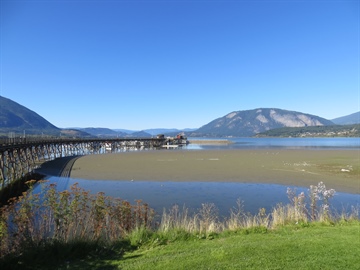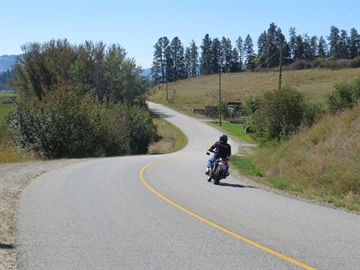 All Photos
The route starts about 16 km east of Falkland along Hwy 97. Turn north onto Salmon River Road. The speed limit varies between 50 kph and 80 kph. The first 19 km or so contain a lot of corners (lots of fun). This stretch was repaved in 2019. After that the road contains a lot of straight sections and some 90-degree corners. Salmon River Road becomes a series of numbered grid roads for about the last 4 km. It's about 28 km from Hwy 97 to Foothill Road SW, which the route follows. Foothill Road SW is a really nice ride that goes on for about 4-5 km before becoming Shuswap Street which takes you to downtown Salmon Arm and then to the waterfront if you want (turn right on Lakeshore Dr). If you don't want to go to the waterfront, then turn right (east) onto 10 Ave SW. After visiting the waterfront, reverse your route in town until you reach 10 Ave SW and then turn left. Continue on 10 Ave SW which runs into Auto Road SE. Follow Auto Road SE to Hwy 97B. Auto Rd SE becomes 50th Ave SE then Black Rd a very short distance from Hwy 97B. Also note that you can easily end up on 10th Ave SE and then at Hwy 97B much sooner because Auto Road SE takes a 90-degree turn at 10th Ave SE.
Head south on Hwy 97B for about 5 km and turn right (west) onto Deep Creek Road. If you want to stop at Gardom Lake, turn left (south) onto Mallory Road about 0.5 km from Hwy 97B, then left (east) onto Gardom Lake Road and then right (south) onto Park Road; the parking area for the regional park is a short distance further. There is a nice grassy area, picnic tables, a sandy beach, swimming and fishing. Gardom Lake Road is also accessible from Hwy 97B.
Follow Deep Creek Road (newly paved in 2022) for about 15 km and then turn left (east) onto Hullcar Road, continue to the end (about 2+ km) and then right (south) onto Lansdowne Road (Canyon Road, to the right, goes to Enderby and is a good ride too). Lansdowne Road runs into Sleepy Hollow Road and then into Highland Park Road. At the end turn right (west) onto Wood Ave. Go about 0.2 km and then turn left (southwest) onto Otter Lake Road. Follow Otter Lake Road for about 11 km (there is a sharp left turn at the top of the hill just past the view point for Otter Lake) until it ends at St. Annes Road (stop sign), then turn left (south). It's about 1 km to Hwy 97. O'Keefe Ranch is to the left (northeast) a short distance and then onwards to Vernon; the turnoff for Westside Road is a little way in the opposite direction.
The ride along Deep Creek Road, Sleepy Hollow Road, Otter Lake Road and the connecting sections consist of meandering country roads that pass through farmland, rolling hills, gullies, forest, country homes, past Otter Lake and through a portion of the small town of Armstrong. You are likely to see other motorcycles along the way. The entire route is paved, and most of the pavement is in good condition. The accompanying photos have been taken over a number of years and may not accurately depict the current road condition. You could spend a whole day or more exploring the backroads in the region.
All Photos