Ride: Shuswap Lake Area
Country roads often running along the lake shore and connected by short stretches of Highway 1. A number of parks and public lake access points. A scenic, pleasant ride with some nice corners along the way for entertainment.

Last Ridden: Aug 6, 2022 (Sunnybrae Canoe Point Road), 2013 (all)
Province: BC
Region: Shuswap
Route Type: paved backroad, major highway, gravel backroad
Riding Surface: pavement (99%), packed gravel (1%)
Most Suitable For: Street Bike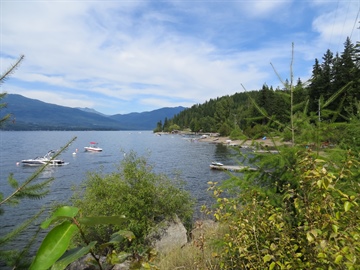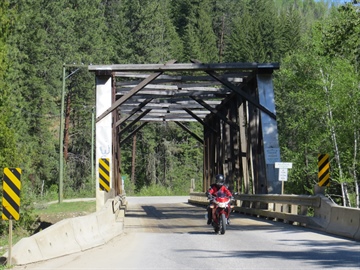 All Photos
Sunnybrae Canoe Point Road
0 km - Chevron Station, Hwy 1, Salmon Arm
15.3 km - turn right off Hwy 1 onto Sunnybrae Canoe Point Road
26.3 km (approx.) - Herald Park entrance
34.6 km - pavement ends and becomes good, hard-packed gravel
35.6 km - nice view to the north
41.9 km - end of road
The paved portion of Sunnybrae Canoe Point Road is a nice twisty road that runs next to, or close to the lake the majority of the way. Most of the pavement is in decent condition, but there are some frost heaves, cracks and patches. There are a number of private properties along the way, but there is some public lake access in addition to Herald Provincial Park including a nice picnic spot. Even if you're on a pure street bike, it's worth riding beyond the end of the pavement a ways just for the views. If you're stopping in Herald Park, it's worth taking the time to walk to Margaret Falls.
White Lake Road
0 km - Chevron Station, Hwy 1, Salmon Arm
19.7 km - turn right off Hwy 1 onto White Lake Road
33.9 km - road intersects with Balmoral Road near (few hundred metres) Hwy 1

The road meanders through the countryside before reaching White Lake. The road then heads southwest past Little White Lake towards Hwy 1. There are some nice corners in this second section. Destination Highways rated this road as the 14th best motorcycle road in BC.
Eagle Bay Road, Blind Bay Road
Follow Balmoral Road north to Blind Bay - a few km - keep right.
Balmoral Road becomes Eagle Bay Road where it intersects with Blind Bay Road.
The pavement ends about 30 km from Hwy 1.
There are a few spots where you can access Shuswap Lake, including some nice pebble beaches.
Back track to Blind Bay and take Blind Bay Road on right (west).
There is a nice picnic spot with tables a short distance past the marina.
Blind Bay Road is quite short - about 6 or 7 km, and intersects with Hwy 1 near Sorrento. Destination Highways rated these two roads together the 16th best motorcycle road in BC. It is a nice ride.
Squilax Anglemont Road
It's been a while since I've ridden the entire length of this road, so I'll only include a few tidbits of info on the stretch to Scotch Creek, which I have ridden more recently.
0 km - Hwy 1 at Blind Bay Road
10 km - turn-off to Adams River, Scotch Creek, Squilax Anglemont Road
27.1 km - Esso Station
29.0 km - Scotch Creek Provincial Park picnic site

There is a neat old wooden deck, single lane bridge near Scotch Creek (2013). The road to Scotch Creek has a few nice corners, but it is not as twisty as the other roads listed here. There are some moderately long straight sections too. Check out the salmon run in late summer / early fall along the Adams River (Tsútswecw Provincial Park / Roderick Haig Brown Provincial Park). There are some really nice walking trails in the park.
All Photos