Ride: Silver Hills - northwest of Lumby
The route is a combination of gravel road and forest service roads of varying condition. Great views of the mountains and valleys. Lakes. About 52 km.

Last Ridden: Aug 29, 2021
Province: BC
Region: North Okanagan
Route Type: Forest Service Road, gravel back road, rough road
Riding Surface: dirt (60%), packed gravel (40%)
Most Suitable For: Dual Sport and Adventure Bikes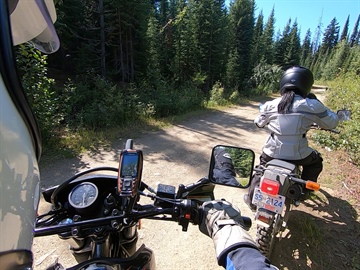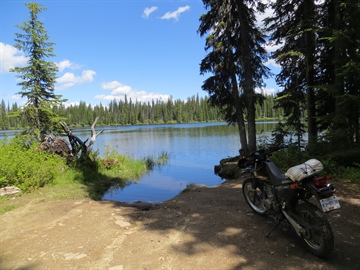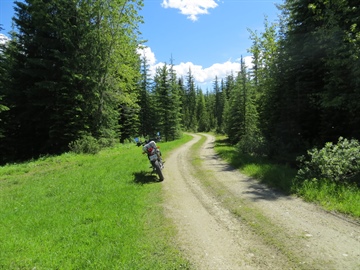 All Photos
Take Lumby-Mabel Lake Road from Lumby, go about 10.5 km past the bridge over the Shuswap River. Turn right onto Squaw Valley Road (next to a smaller bridge) and follow it to the end (about 8.7 km). Squaw Valley Road is a gravel road in good condition and is an easy, interesting and enjoyable ride. It winds along through forest, under tree canopies, along grassland and farmland. The end of the road connects to forest service roads next to a snowmobile club hut; go straight. This is Silver Hills FSR on the maps I consulted, but there is a BC Forestry sign further on that indicates that this is Ireland Creek FSR. Just follow the road which I guess at some point becomes Silver Hills FSR. Basically, you will be doing a big loop with the option of a side trip into Sigalet Lake via Sigalet FSR. The route also goes by Kathy Lake. Silver Hills FSR connects to Sigalet Road (turn left) which is gravel and was in good condition. Follow Sigalet Road for about 2 km where it connects to Lumby-Mabel Lake Road about 2 km south of Squaw Valley Road. The entire route is 52.2 km and ranges in elevation from 413 m to 1646 m.
Like many FSRs, the condition of the roads varies quite a bit. Some of it is very smooth and easy going even for new riders or those on heavy bikes with more street biased tires. Other sections are rougher and steeper, but not extremely so. Even less experienced riders on dual sport bikes should be able to do the entire route without much difficulty. There are some potentially muddy sections (mostly on top). Some sections have suffered some erosion resulting in some shallow ruts. There are some inclines (not real steep) that have loose rocks and gravel, sometimes on switchbacks. It might be a bit challenging if you're riding a big adventure bike (depending on your experience and tires), but you should be able to pick a line through. I didn't have any trouble on my DR650. My wife managed fine on her DR200 and she doesn't have a lot of off-pavement riding experience and is not that confident in rough conditions. Conditions can vary a great deal depending on how wet or dry it is. Portions of the route between Kathy Lake and Lumby-Mabel Lake Road can get very dusty in the summer if there hasn't been much rain lately. There wasn't much dust when I last rode it, but last year when I did, it was extremely dusty. There are potentially a lot more vehicles on this portion of the route too as it's easier to drive up and shorter to Kathy Lake.
The more northern portion of the route, starting at the end of Squaw Valley Road, climbs a fair amount in elevation quicker and is generally rougher and narrower. At about 12.6 km from the northeast end of Squaw Valley Road, turn right onto Sigalet FSR which is mostly level except the first bit. Once the road levels off it can be muddy with lots of puddles. The last bit of this part of the route, about 0.9 km, is more of a jeep trail off Sigalet Lake FSR. There is a moderate hill with rocks, then a bit of a wet section before arriving at Sigalet Lake. I saw a lot of fish jumping in the lake on my visit, but I think it would be difficult to fish here without a boat. There is some limited camping at the lake. There also is camping and better water access at Kathy Lake. Ride back to Silver Hills FSR / Ireland Creek FSR and continue on (go right). The road gets smoother, but there are sections that can be muddy as the water does not drain off as well. Portions of the northeastern and eastern parts of the route offer some pretty relaxed riding with grassy shoulders and smooth tracks.
According to my gps maps, there are at least a couple of other lakes that you can ride into that aren't that far off the route (one off Sigalet FSR, one off Silver Hills FSR about 2 km before Kathy Lake). I might ride into them on my next ride up there. I've been a short distance down the "road" off Sigalet FSR, and it was quite rough and muddy at the time.
All Photos