Ride: Sugar Lake - Sugar Lake FSR - North Shuswap FSR - Greenbush Lake. Rainbow Falls. Kate FSR.
Mostly good gravel, some loose gravel, some pavement from Hwy 6 along Sugar Lake Road, North Shuswap FSR / Sugar (Lake) FSR past Sugar Lake to Greenbush Lake. A fairly easy ride (read further) with some nice scenery along some sections. Optional side trips: Rainbow Falls (Monashee Provincial Park), Kate FSR.

Last Ridden: 2017 / 2018
Province: BC
Region: North Okanagan Monashees
Route Type: Forest Service Road, paved backroad, gravel backroad
Riding Surface: packed gravel (50%), loose gravel (32%), pavement (18%)
Most Suitable For: dual sport
Also Suitable For: adventure bike; the first 18 km ok for street bikes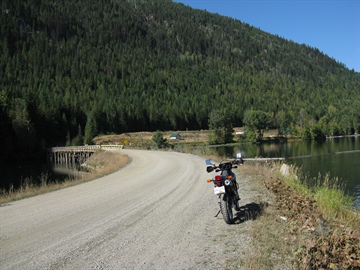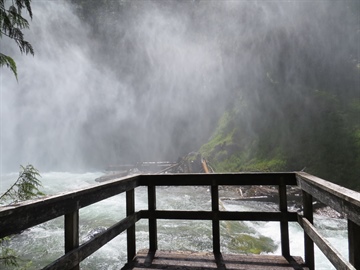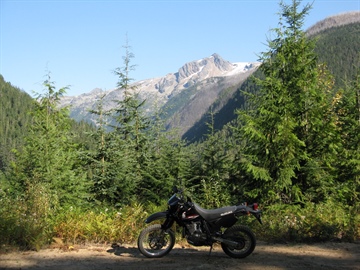 All Photos
Sugar Lake, Greenbush Lake, Sugar Lake Road, Sugar (Lake) FSR / North Shuswap FSR, Rainbow Falls (Monashee Provincial Park), Kate FSR
Distances are approximate.
- 0 km: turn off Hwy 6 and onto Sugar Lake Road in Cherryville at the gas station / store; look for sign for Monashee Provincial Park
- 13.4 km: pavement ends, good gravel (oiled) begins
- 16.3 km: south end of Sugar Lake, cross bridge and head up west side of lake onto North Shuswap FSR / Sugar Lake FSR (oiled for a short stretch)
- 29 km: north end of Sugar Lake
- 38 km: the turn-off to Rainbow Falls in Monashee Park is on the right (there's a sign), but keep left (unless you want to go to the falls)
- 64.9 km: road runs next to river before heading up hill
- 68.7 km: 51 km marker
- 72.5 km: turn right to Greenbush Lake; there was a large white fuel tank on the right just before the turn-off when I was there last
- 73.9 km: Greenbush Lake recreation site

The FSR portion of the route is a mix of good gravel road and not so good; there is some loose gravel and some loose rocks where the road had been recently graded. There are no real steep hills or technical sections (continue reading). Depending on the current surface conditions, the route may be passable with a car or some street bikes, but watch for rocks if you have little ground clearance. The road gradually narrows (generally). There is a solid road base (except in active construction sections) with loose gravel and small rocks along some stretches. There is also some sand. Some stretches are very smooth with no, or little gravel in the tire tracks.
Having said all that, on my ride in 2017 there was road maintenance / construction along stretches of the FSR, particularly between the 14 km and 22 km markers resulting in loose, deep gravel / sand / rocks in some sections. The shoulders of the road were particularly bad. This may made it a less enjoyable and a more challenging ride. There is also a lot of active logging operations along the FSR - cutting, log hauling and new side road construction. I suggest avoid the FSR section during the work week. The FSR was also very dusty on my ride due to a limited amount of rain prior. This stretch of road was in much better condition in 2018.
There are some other recreation sites and public lake access points along the way. The lake and mountains are not visible the majority of the route west of Sugar Lake because of trees. There are some nice mountain views further past the lake beginning at about 50 km.
The side road to Greenbush Lake (the last 1.4 km) is much narrower and rougher than the main FSR. The road can be muddy in a few spots if it's wet. The last little bit is a bit steeper with loose rocks. The recreation site at Greenbush Lake offers free camping, but there are no facilities other than fire pits and an outhouse. There is lake access where you can launch a small fishing boat (if you were going in with a truck).
Side Trips: Rainbow Falls in Monashee Provincial Park; Kate FSR
There are a couple of side trips that are worth taking. The first is Kate FSR which is on the left (east) side of Sugar Lake Road just before Sugar Lake. It's quite a nice and fairly easy ride. The main road only goes about 20 km or so. There's a BC Forest Service campground on the shore of Sugar Lake out there. The other side trip is into Monashee Provincial Park. The road to the lower parking lot is in good condition. Rainbow Falls is accessible from the lower parking lot; it's about a 250 m hike into the falls. The road to the upper parking lot is a bit rougher and steeper but passable by car if you drive carefully and slowly.
In May 2021 Sugar Lake FSR was blocked at around 40-something km due to a landslide. There were also a number of wildfires in the area in the summer of 2021 resulting in the FSR being closed. You may want to check the road status before heading out.
All Photos