Ride: Trinity Valley Road, Hidden Lake Road
Trinity Valley Road is a scenic back road ride passable on most motorcycles. The road connects Lumby-Mabel Lake Road with Enderby-Mabel Lake Road. The road surface is mostly hard packed gravel (oiled, hard-pan) and fairly smooth (almost like pavement in some sections). The first and last few km are paved. Hidden Lake Road is rougher and is best ridden on a dual sport or adventure bike.

Last Ridden: 2019
Province: BC
Region: North Okanagan
Route Type: gravel back road, paved back road, Forest Service Road
Riding Surface: packed gravel (70%), pavement (20%), dirt (10%)
Most Suitable For: Dual Sport, Adventure Bike
Also Suitable For: Street Bike (most, Trinity Valley Road)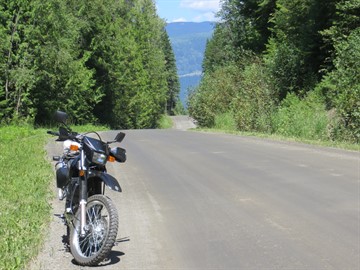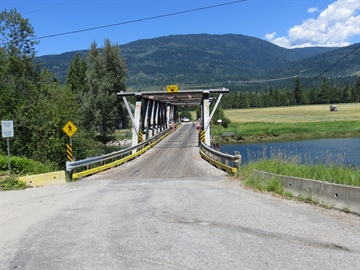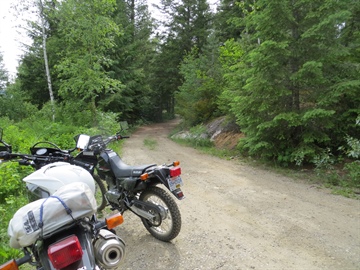 All Photos
Turn north onto Shuswap Ave at Hwy 6 in Lumby (controlled intersection). Shuswap Ave becomes Lumby-Mabel Lake Road. Turn left onto Trinity Valley Road at about 8.5 km from Hwy 6. The road twists and turns and ascends out of the lower valley and enters Trinity Valley. The pavement ends after a few km. The northern portion of the road descends back down to the lower valley where the Shuswap River flows from Mabel Lake. The pavement begins again at about the 39.6 km mark (from Hwy 6 in Lumby) where it intersects with Hidden Lake Road on the right.
Continuing along Trinity Valley Road, which is a winding country paved back road at this point, you pass farms and other rural properties before crossing over the Shuswap River (4.7 km later) and then intersecting with Enderby-Mabel Lake Road (in a further 1.4 km) a bit east of Ashton Creek Store (gas available). Total distance along Trinity Valley Road is about 45.7 km.
Hidden Lake is about 13 km from Trinity Valley Road. Hidden Lake Road (gravel and dirt) starts out smooth, but it can be quite rutted further on as it gains elevation. There is a BC Recreation Site at Hidden Lake with camping (fee) and day use areas. Hidden Lake is a fishing lake.
Watch out for logging trucks on weekdays. Road conditions can vary throughout the year.
All Photos