Ride: Vernon to Needles via Hwy 6
A great ride along a secondary highway through valleys, farm land, canyons and a mountain pass. While there are some straight sections, there are a lot of twisty sections (some very tight) that will make you grin. This is one of the best motorcycle roads in BC. Side trip to Edgewood.

Last Ridden: July 14, 2022
Province: BC
Region: Okanagan Monashees
Route Type: Secondary Highway
Riding Surface: Pavement (100%)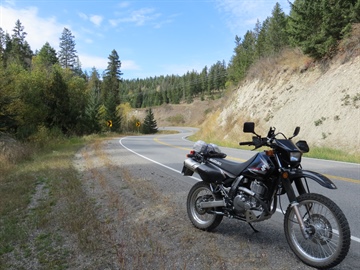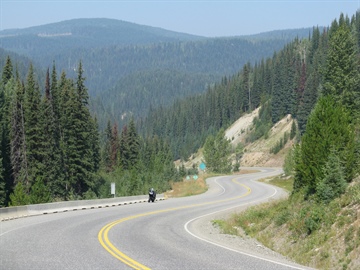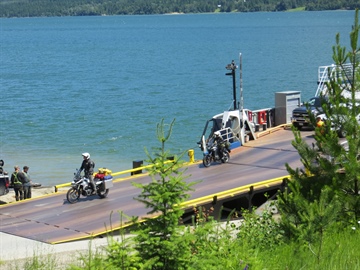 All Photos
This is a great motorcycle route with usually light traffic. Total distance from Vernon to the Needles Ferry is about 135 km. Destination Highways ranked this as the second-best motorcycle road in BC. The route leaves Vernon, which is semi-arid, and runs through Coldstream, Lavington, Lumby and Cherryville. The vegetation becomes lusher as you travel east. You pass by semi-rural areas, farmland, small golf courses, canyons and a stretch along the Shuswap River where there is a BC Hydro Canoe launch. The highway rises and falls and hugs the hillsides in place. There are some nice corners along the way. After Cherryville the road climbs and dips quite a bit and is quite entertaining with some very tight corners with posted speeds of 20 - 50 km/h. The route goes over the Monashee Pass (elevation 1241m), and there is a nice little lake at the rest stop at the summit. The road descends over the next few km with several great corners, but watch for gravel on the pavement especially if heading east. After that, the road gets very twisty and narrow. This stretch runs for several km before opening up and straightening out with three lanes for 9 km. Don't despair because there is still some good riding ahead.
There are limited passing opportunities along some sections, so if you happen to get stuck behind a transport truck or an RV, you may just want to pull over for a few minutes so that you can run the corners at a quicker pace. There is a free ferry across Arrow Lake at Needles. Also check out Edgewood (about 10 km off Hwy 6 after descending from the pass on east side). Watch for deer, cattle (especially just east of the summit) and sometimes bears and moose along or on the road. The road is more fun to ride from east to west. Watch for sand on the road in the spring (until at least June) at higher elevations. I would say that the road surface is mostly in good condition, but it does vary from very good to fair. There are some front heaves, dips, patches, cracks and sections of broken pavement. Watch for some large crack or gaps (upto 10 cm) running mostly lengthwise west of the summit (recently filled in).
Prior to the pandemic gas was available in Cherryville (still is), Edgewood and Fauquier. You can get a meal at the Cherryville golf course and the Gold Panner Cafe. There is camping available in Edgewood and a few other locations. If you're willing to ride a bit off the highway, then there are numerous places you can camp for free.
Enjoy the ride!
All Photos