Ride: Westside Road between Vernon and West Kelowna
A narrow and twisty backroad along the west side of Okanagan Lake between Vernon and West Kelowna BC. It is both scenic and entertaining.

Last Ridden: Oct 17, 2021
Province: BC
Region: Okanagan
Route Type: paved backroad
Riding Surface: pavement (100%)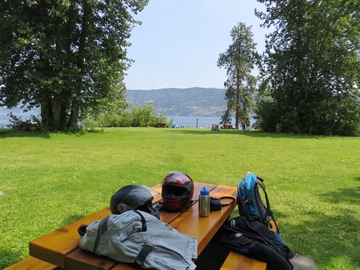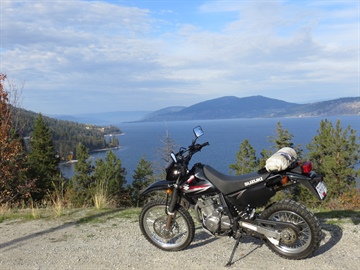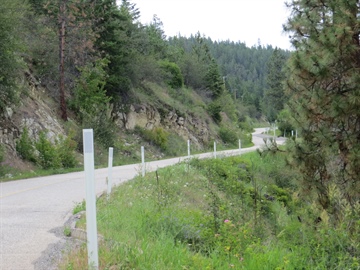 All Photos
This stretch of road is about 67 km in length. It runs from Hwy 97 near the north end of Okanagan Lake to Hwy 97 in West Kelowna. Sections of the road are very narrow, twisty and hilly. A lot of the road is essentially cut into the mountain side, and there are steep drops (a bit scary in places). The more northern part of the route offers more relaxed riding - it's not as technical. The speed limit is mostly 60 and 70 kph. Corners are marked at 30, 40, 50 and 60 kph. There can be a lot of traffic, especially on the south end. The road runs through some residential areas and resort developments. There are nice views of Okanagan Lake, hillsides, downtown Kelowna and the Kelowna bridge. There are parks and lake access along the way. Exercise caution on this road as there have been many accidents along it, including a number of fatalities, some of which have been motorcyclists.
The road surface is in good condition for the most part, but there are some sections that are in fair to poor condition, particularly a 3 - 4 km stretch just south of La Casa. Also watch for the occasional pothole as well as rocks on the road, especially in the southern half of the route. Due to the White Rock Lake fire in 2021, most evident in the northern third of the route (especially Killiney Beach and parts of the Indian reservation), there could be some debris that has rolled on to the road from above. I saw a portion of a burned log on the shoulder.
Watch for wildlife along or on the road, especially mountain sheep and deer. On my most recent ride I saw about a dozen mountain sheep with about six of them in the middle of the road. The mountain sheep are usually located in the southern third or so of the route. On that last ride, I also saw 3 deer along the shoulder, and I didn't see them until I was almost upon them because they were partly hidden by bushes. Unfortunately, I also saw two dead young deer that had been hit by vehicles.
There are two Provincial Parks along this route: Bear Creek Provincial Park, nearer the south end, and Fintry Provincial Park, mid-way. The Bear Creek OHV Trail System is also accessed off of this road a couple of km north of Bear Creek Provincial Park (take Bear Creek Main Road); there are signs for the riding area.
Bear Creek OHV Trail System Info
All Photos