2022 Honda CRF250F Valve Adjustment Procedure - Page 1
Article Last Updated: Oct 25, 2022

Next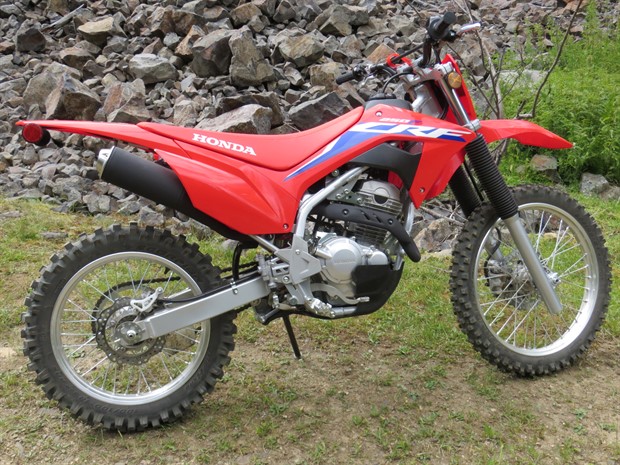 Disclaimer: While the author and website owner has attempted to provide correct information, sometimes errors occur. By using this document and following the procedures and advice below, the user assumes all risk and responsibility for injury or damage to their motorcycle. The author has been servicing his and his family's motorcycles for many years and is self-taught (no formal training in motorcycle servicing). I recommend that you consult the Honda CRF250F owner's manual and service manual.
Read all of the instructions before beginning. It may be helpful to take photos of the bike prior to removing or repositioning parts to aid you later. The following is based on the author's observations and experience performing a valve clearance inspection on the 2022 CRF250F and on information contained in the official 2019-2022 Honda CRF250F service manual (part no. 61K9903). The valves clearances on the author's CRF250F have not required adjustment yet, so there are no photos of the rocker arms and shims being removed, but the author has experience adjusting the valve clearances on other motorcycles like the Honda CBR250RA and the Suzuki V-Strom 650 which both use shims.
The service manual skips over a few points that would be helpful to know in advance. The service manual also jumps around quite a bit, requiring you to flip back and forth between multiple sections. This guide attempts to fill in some gaps, help clarify some points, consolidate the information in one location, and offer some suggestions to make the valve clearance inspection and adjustment procedure a little easier.
By performing the valve clearance inspection and possibly valve clearance adjustments yourself, you can save a significant amount of money, learn more about your bike and gain the satisfaction of maintaining your bike yourself. There is nothing technically challenging about the procedure, especially since the camshafts do not need to be removed in order to replace valve shims. Use the correct tools for the job, and take your time.
Note: with about 10 hours of riding time on the author's 2022 CRF250F, all valve clearances were within specification.
Parts and supplies you may need
valve shims
a new valve cover seal/gasket if the existing one is hard, deteriorated or damaged
possibly high temperature resistant black silicone sealant (Three bond 5211, SS KE45, or equivalent) suitable for engine valve covers (it should say on the product label) available from auto supply stores or a dealer
new valve cover bolt seals if the existing ones are hard, deteriorated or damaged
new O-rings for the crankshaft hole cap and timing hole cap if the existing ones are hard, deteriorated or damaged
motorcycle engine oil that you currently use for your bike
molybdenum grease (if replacing shims)
possibly a couple of small, clean plastic bags and twist ties or zip ties (if completely removing the fuel tank)
shop towels, rags
pen and paper
a camera
Tools you need or may find helpful
an accurate torque wrench (5 - 27 N.m range)
8, 10, 12 and 17 mm sockets, 3 or 6 inch extension, ratchet, flex-bar or T-handle
6 mm and 10 mm hex (Allen) bits
12 mm wrench
feeler gauges to measure the valve clearances
micrometer to measure shim thickness
telescoping magnet for removing shims
flat bladed tweezers for placing new shims
rubber mallet for loosening the valve cover
Valve Clearances (per 2019-2022 Honda CRF250F service manual)
Engine cold: below 35C (95F)
Intake: 0.10 +/- 0.03 mm (0.004 +/- 0.001 in)
Exhaust: 0.15 +/- 0.03 mm (0.006 +/- 0.001 in)


Valve Clearances (per 2022 CRF250F owner's manual)
Engine cold: below 35C (95F)
Intake: 0.10 +/- 0.02 mm (0.004 +/- 0.001 in)
Exhaust: 0.15 +/- 0.02 mm (0.006 +/- 0.001 in)

Next