2010 Suzuki DR200SE Long Term Review
Review Last Updated: Nov 30, 2023
Vehicle Type: Dual Sport
Evaluation Period: 12 years, 8793 km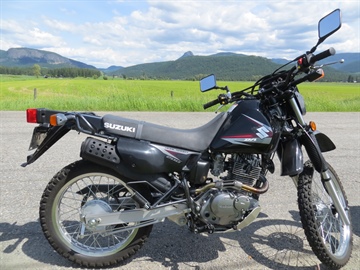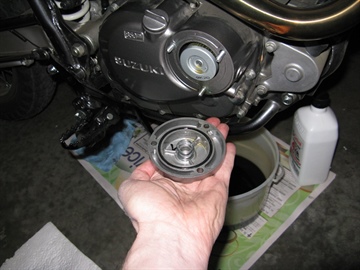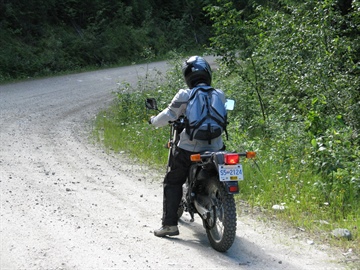 All Photos
Pros
large fuel tank (13 L) and low fuel consumption (38 km per litre) resulting in a long riding range, relatively light weight (277 lbs with a full gas tank), easy maintenance, reliable, easy to ride, low seat height (31.9 in) for shorter riders, simplicity, low first gear, can handle fairly rough trails at a moderate pace
Cons
The top speed is only about 115 km/hr, basic suspension, low power, cramped for larger riders
Overview
The DR200SE is a small, simple, easy to ride dual sport motorcycle. It's fairly light weight and has a low seat height and electric start. It's a good choice for a newer or smaller rider. You can ride it on the highway, but I would avoid the higher-speed ones as the motor does not make a lot of power, and subsequently, the top speed is only about 115 km/hr. The DR200 is more at home in town, on the backroads, dirt roads and trails. The bike is capable on rough trails; you just have to ride at a more moderate pace than you might on a dirt bike or more off-road focused dual sport. The bike has a very low first gear which is good for crawling over the rough stuff.
The suspension is basic, but it is adequate for both on-road and less aggressive trail use. When stopped, and you compress the suspension by rocking the bike, it feels soft. When riding the bike on rocky trails with the tires fully aired-up to the recommended pressures (22 psi front, 25 rear), the suspension feels harsh. I've never bottomed the suspension, but I don't ride the bike fast through big dips or ditches, and I don't do jumps on it either. For reference, I weigh about 68 kg (150 lbs) without riding gear.
The DR200 has a single front disk brake and a rear drum brake. I've found the brakes to be perfectly adequate on pavement and on dirt. The fueling is fine; we've ridden the bike over an elevation range of about 500 m to 1800 m.
The stock tires are fine for the likely intended purposes of this bike. Of the tougher trails that I've ridden this bike on, it was the stock tires that were the limiting factor, though: the stock tires offer limited traction in the slippery stuff - mud and loose surfaces on hills. We replaced the stock tires in 2021 due to age more than anything (they were probably only half-worn at 6900 km). The bike has been seeing more dirt/trail use since 2020, so we chose more dirt capable tires as replacements: Pirelli MT21 80/90-21 and 110/80-18. These tires are 1 cm wider than the stock tires and are rated as 90% dirt / 10% street. I had Pirelli MT21s on my DR350S years ago, and I was happy with them. On the DR200, the MT21s greatly improve the traction in the dirt, loose rocks and especially in the mud. There is a small price to pay, though, as they do not feel as good on the pavement, but that was expected. They'll likely wear faster too. If you're going to be doing a lot of trail riding, I recommend these tires; they greatly improve the experience, and they're safer in slippery off-road conditions. If you're going to be riding mostly pavement and gravel roads, then a 50-50 tire (like a Shinko 244) may be a better choice.
One thing I would like to point out about the DR200 is the large fuel capacity - 13 litres. That combined with a low fuel consumption (varies, but we've gotten as much as 40 km/l), gives this bike a pretty good fuel range, probably way better than any other new small dual sport with a stock fuel tank. A Yamaha TW200 has only a 7-litre fuel tank. A Kawasaki KLX230 has a fuel capacity of 7.5 l.
The DR200SE was updated a few years back with more modern styling and improved ergonomics. I believe that the chassis and motor were essentially unchanged. The bike was discontinued after 2020, but there's always the used market.
Maintenance, issues
This is a low maintenance motorcycle, and maintenance is relatively simple although access to the foam air filter is a bit of a pain (you have to remove the side covers and seat, and the air box opening is small). The valve clearances were in-spec at the break-in service, but I did have to adjust the intake valve clearance at around 5000 km (it was a bit loose), but the exhaust was still in-spec. The valves have screw type adjusters. The original battery lasted for 5 years (removed from bike while in storage and charged monthly). The same model of battery used in another bike lasted 8 years under similar conditions. As mentioned previously, I replaced the original tires with Pirelli MT21s. The only other maintenance performed on this bike has just been the usual items applicable to most other motorcycles: check bolts, wheels, spokes, tires and brakes, replace brake fluid, oil and filter changes, air filter maintenance and replacement, chain maintenance, winterizing, etc.
The bike has been reliable. I did have to resolder an electrical connection in the tail light fairly early on. Also, previously the fuel petcock, while in the on position, had been slowly leaking gas to the carb (not externally) while the bike had been sitting (not running). The petcock is vacuum operated. There are three positions on it: on, reserve and prime; there is no off position. Normally gas should only flow to the carb when the engine is running or while the petcock is in the prime position. I imagine that either an O-ring or diaphragm in the petcock has deteriorated and needs replacing. Suzuki doesn't offer a repair kit or individual replacement parts except for the entire petcock assembly (expensive). There is an after-market repair kit available as well as after-market petcocks, but maybe all it needs is an O-ring that I can buy from an auto supply store. I checked for fuel in the carb over the past (2022-2023) winter, and it appeared that the petcock had stopped leaking even though I haven't gotten around to fixing it.
A new issue came up fairly recently. The feel at the gear shift lever has changed. The bike changes gears just fine, but the gear-shifting mechanism (the internal linkage) is not as smooth as before: it feels like metal is rubbing on metal when moving the lever (up-shifting is worse). I'm pretty sure that the transmission itself is fine. I suspect that the gear shift pawls have worn and need replacing. There were black flakes in the oil when I changed it, and I'm guessing that came from a coating on the pawls. The cost of replacement pawls are about $6 each (there are two of them). I'll need a few other parts too (not expensive). I'll have to remove the right engine cover and clutch to get at the gear changing mechanism to verify that's the problem (and fix it). We're heading into winter, and I don't have a heated shop, so this will wait until spring. I'll give an update and provide photos afterwards.
Accessories added
The bike is still completely stock except for the addition of a Ricochet aluminum skid plate, the tires (Pirelli MT21 80/90-21 and 110/80-18) and the front turn signals. We replaced the front turn signals (broke one) with a pair of BikeMaster ones (#263125) which are supposed to be direct replacements for the turn signals on the DR650SE.
The OEM DR650SE turn signals have a shorter rubber stalk than the DR200SE ones, otherwise they look pretty much the same. The mounting "bolt" on the BikeMaster signals is about 1 cm longer than the OEM ones and makes contact with the instrument cluster and probably the rear fender (if mounting on the rear) on the DR200SE. I had to carefully cut off some of the "bolt" with a Dremel-like tool to make them fit. The BikeMaster turn signals are not made as well as the OEM signals, but they are a lot cheaper ($31 CAD vs $139 front and $110 rear, each). The lens on one of the new turn signals didn't fit properly (I tried to fix it, but I was only able to improve it some), so I used silicone sealant to seal it on two sides (it's not noticeable). On that same turn signal, the alignment collar was completely inset into the stalk of the turn signal. On the other turn signal, the collar was oriented such that the signal was pointing about 45 degrees downwards from horizontal if inserted into the mounting bracket; looking at a parts fiche for the DR650SE, it looks like the cut-out on the mounting bracket is also angled from horizontal, so I guess I should have confirmed that prior to ordering the BikeMaster signals, but then again, I wasn't able to find any OEM-like replacement turn signals available for the DR200SE. The packaging of the BikeMaster signals states Suzuki Front/Rear. The BikeMaster turn signals use the same type of connector as the Suzuki ones. Another thing to note on the BikeMaster turn signals is that the wire is about a metre long, whereas the OEM one is about 32 cm long.
Comparing the DR200SE to other bikes
2020 was the last year for the DR200SE in the Canadian market at which time the MSRP was $5099 + fees + taxes. The 2010 model has a seat height of 810 mm (31.8 in), 260 mm (10.2 in) of ground clearance, and a dry mass of 113 kg (249 lbs). The 2020 model has a seat height of 845 mm (33.3 in) and a curb mass of 126 kg (278 lbs).
Bikes in this class include the Yamaha XT250 and TW200, Kawasaki KLX230/KLX230 S and Super Sherpa (discontinued), Honda CRF230L (discontinued) and CRF250L (discontinued, quite a bit heavier, higher seat). I suppose you could also include the Kawasaki KLX250S (discontinued), KLX300 and the Honda CRF300L, but these are higher spec., are a bit heavier, have greater performance and cost more. For 2023, the US also gets the CRF300LS which has a lower seat than the CRF300L. The CRF300LS isn't available in Canada (yet?).
The 2023 Yamaha XT250 (249 cc) is air-cooled and has fuel injection, electric start, front and rear disc brakes, a 5-speed transmission, a curb mass of 132 kg (291 lbs) with a 9.6 l fuel tank (XT250N), an 830 mm (32.7 in) seat height and 285 mm (11.2 in) of ground clearance. It has non-adjustable suspension except for rear preload. It also has a clock, low fuel light and a fuel reserve trip meter. The warranty period in Canada is one year. MSRP is $6199 CAD for the 2023 (up $500 over 2022) + fees + taxes.
The 2023 Yamaha TW200 (196 cc) is air-cooled and carbureted, has electric start, front disc brake and rear drum brake, a 5-speed transmission, a curb mass of 126 kg (278 lbs) with a 7.0 l fuel tank, a 790 mm (31.1 in) seat height and 265 mm (10.4 in) of ground clearance. It has non-adjustable suspension. The big differentiating feature of the TW200 is that it has really fat tires: 130/80-18 front and 180/80-14 rear. The warranty period in Canada is one year. MSRP is $5799 CAD for the 2023 (up $300 over 2022) + fees + taxes.
The 2022 Kawasaki KLX230 (233 cc) is air-cooled and has fuel injection, electric start, front and rear disc brakes with ABS, a 6-speed transmission, a curb mass of 133 kg (293 lbs) with a 7.5 l fuel tank, an 885 mm (34.8 in) seat height and 265 mm (10.4 in) of ground clearance. It has non-adjustable suspension except for rear preload. It also has a clock and fuel gauge. It has a variable idle speed system, and the reports I've read and seen of it are generally negative, but there is an after-market fix for it. The warranty period in Canada is one year. MSRP is $5599 CAD + fees + taxes.
The KLX230 S is the same as the KLX230 except it has shorter travel suspension giving it a lower seat (830 mm / 32.7 in) and only 210 mm (8.3 in) of ground clearance, is green instead of black, and is available with ABS for $5599 or without for $5399. We considered buying a KLX230 S for our kid, but for the trails that we ride, I think the limited ground clearance of this bike could be a problem. Our DR200SE has more ground clearance, more suspension travel and a lower seat height.
For 2023 both the KLX230 and the KLX230 S get a new LED headlight, headlight cowling and front fender. The Canadian Kawasaki website lists green as the only colour with a price of $5749 CAD (Non-ABS) + fees + taxes for both versions. Switchable ABS is available for $150 more.
Last Words
The DR200SE is a good, reliable, inexpensive, small, simple dual sport bike best suited for smaller or newer riders, but experienced riders can still have fun riding it as I can personally attest to. It's a little low on power, but it gets the job done and can go a great distance on a single tank of fuel. It can even handle fairly rough trails if ridden at an easier pace. Not the best choice for highway riding due to its lower power. This is my wife's bike, and when I asked her if she would like something new to ride, she said that she was content with her DR200 (and her CBR250RA).
All Photos
Service Data
Sources: Suzuki DR200SE Service Manual, 10th Ed., Sept 2008 and addendum for 2010 DR200SE from Suzuki Canada
2010 Suzuki DR200SE Service Data (pdf)
2010 Suzuki DR200SE Air Filter Service

Back To Top