Ride: Douglas Lake Road, Hwy 5A - Westwold to Merritt
From Westwold to Merritt via Douglas Lake Road and Hwy 5A. The route takes you through farmland, a narrow valley into a canyon, and then rises to a plateau with open range land and rolling hills and lakes. Starts off paved and then turns to good gravel road and stretches of loose gravel, a paved section on top and then gravel again. The last 39 km is paved. Passable on most street bikes, but some gravel sections may be challenging for some riders or on some motorcycles. The best choice for the entire route would be a large dual sport or adventure bike.

Last Ridden: 2014
Province: BC
Region: Thompson Okanagan, Nicola
Route Type: gravel backroad, paved backroad, secondary highway
Riding surface: pavement (55%), packed gravel (30%), loose gravel (15%)
Most Suitable For: adventure bike or dual sport
Also Suitable For: some street bikes (for some portions, or with caution)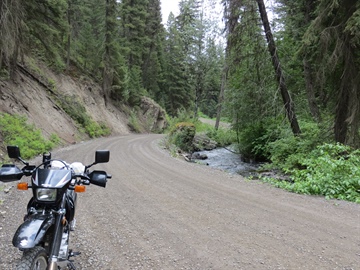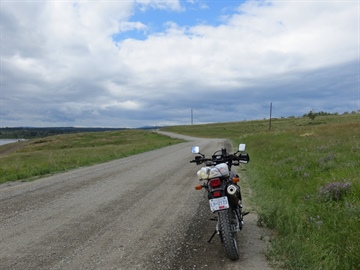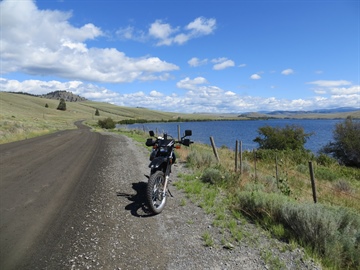 All Photos
0 km - Chevron station, downtown Vernon
58.6 km - Hwy 97 and Back Road, Westwold; Back Road has alternating pavement and good gravel
64.8 km - Douglas Lake Road - starts off as a rough and narrow paved road through a valley that gradually narrows; farms, ranches
70.5 km - begin gravel road which becomes narrow, twisty, and runs through a canyon before climbing to a hill top; very scenic, lush vegetation, rock formations, streams and creeks
85.2 km - road forks - go left; good views a short distance further; opens up to rangeland (Douglas Lake Ranch) and hay fields - private property
- after a few km the road becomes coarse (1 inch) gravel on a hard base - not much fun to ride on (this is the worst section), and the scenery isn't that interesting; a few lakes along the route
- Douglas Lake Ranch and fishing resort at Salmon Lake along the way
107.4 km - pavement
119.4 km - hard packed gravel, not as loose as before, easier to ride
127.0 km - pavement - good, twisty sections as the road winds it's way along hillsides
140.3 km - Hwy 5A, go left (south) to Merritt
145.0 km - Quilchena - gentle curves and short sections with some 60 km/h corners; follows the shore of Nicola Lake for a ways (lake access)
166.0 km - Chevron station in Merritt

Distances are approximate. The road conditions may have changed since I last rode it.
There was a major wildfire (White Rock Lake fire) in the region in 2021. Portions of the route may have been impacted, but I believe that Douglas Lake Road has reopened since. There has also been major flooding in Merritt (Nov 2021) with evacuations and damage resulting. Check road conditions and services availability in advance.
Merritt to Brookmere via Coldwater Road
All Photos