Ride: Nakusp to New Denver to Kaslo to Balfour plus Sandon - Hwy 6, Hwy 31A, Hwy 31
The ride starts in Nakusp, and the section from New Denver to Kaslo along Hwy 31A is one of the best motorcycle roads in BC. There should be enough corners to satisfy everyone. The scenery is great the entire way too. The route continues from Kaslo to Balfour along Hwy 31. Also included is a side trip to Sandon, an old mining town. The route is all paved except the backroad to Sandon.

Last Ridden: 2014
Province: BC
Region: Kootenays
Route Type: secondary highway, gravel backroad
Riding Surface: pavement (90%), packed gravel (10%, backroad to Sandon)
Most Suitable For: street bike, adventure bike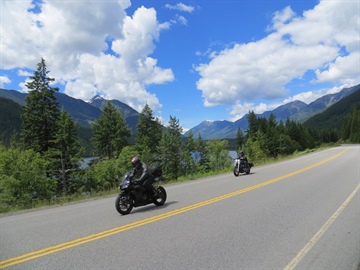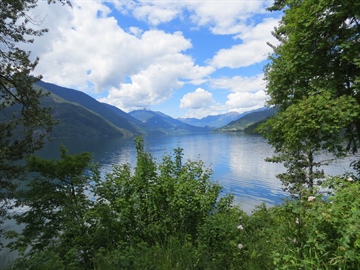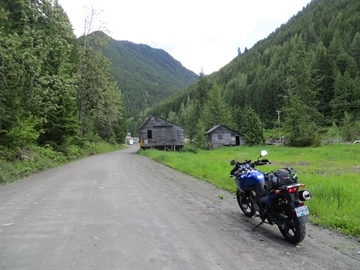 All Photos
The route begins in Nakusp. It is about 46 km from Nakusp to New Denver, and about 128 km from Nakusp to Balfour. The route between Nakusp and New Denver is quite scenic with lake and mountain views. There are some nice corners along the way, although it's not as twisty as the next section. Take a break at Summit Lake Provincial Park. New Denver is situated on the shore of Slocan Lake. It's worth spending some time here. New Denver is the site of a World War II Japanese internment camp. There's a wonderful Japanese garden here as well as full services.
The essence of motorcycling in BC! That's one way to describe the ride between New Denver and Kaslo. The road climbs out of the valley through a cut between the mountains. It twists and turns most of the way to Kaslo. There is no shortage of corners. This is one of my favorite stretches of road in the province. The scenery is very interesting.
The turn-off to Sandon is about 10 km from New Denver. It's about another 6 km to Sandon down a relatively smooth, hard-packed gravel road. This road is suitable for all street bikes. If you've never been to Sandon, an old mining town (or what's left of it), it's worth the detour.
The west half of Hwy 31A was bumpier (frost heaves), but it wasn't bad. There are some great mountain views. If you look closely, you'll see remnants of old mining operations on the mountain sides. There are a couple of lakes along the way with a rest area at one. There are some creeks and waterfalls along the way as well.
Kaslo is at the east end of the pass and is about 47 km from New Denver. With my side trip into Sandon, my travel distance was 63 km. Kaslo is a quaint little town on the shore of Kootenay Lake. There is a full range of services here. Be sure to check out the waterfront as there is a nice beach and an old sternwheeler (steam boat), the S.S. Moyie.
Continuing on Hwy 31 to Balfour you'll find the road less exciting, but enjoyable none the less. It starts off with gentle curves and short straight sections. Further on the road tightens up as it cuts along a cliff face and then descends down to Coffee Creek. There are some lake and mountain views along the way as well as Cody Caves Provincial Park and Ainsworth Hot Springs. Our route ends at Balfour (Kootenay Bay Ferry terminal), about 39 km south of Kaslo. You can continue onwards to Nelson, which is about another 34 km.
Balfour to Creston - Hwy 3A
All Photos