Ride: Revelstoke to Nakusp to Fauquier - Hwy 23, Hwy 6
Scenic ride along secondary highways. Two free ferry crossings (Arrow Lakes) and multiple provincial parks. About 159 km.

Last Ridden: 2016
Province: BC
Region: Columbia, West Kootenay
Route Type: Secondary Highway
Riding Surface: Pavement (100%)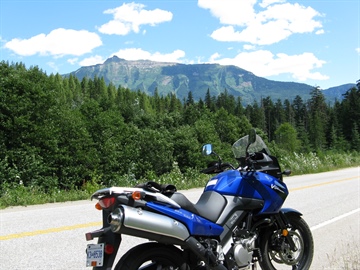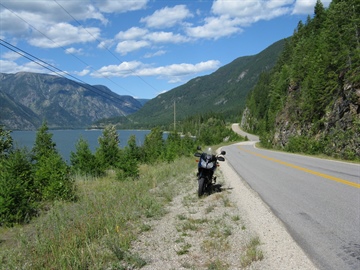 All Photos
Revelstoke to Shelter Bay, Hwy 23
The pavement is in good condition with paved shoulders and a speed limit of 100 kph. Usually, the traffic is light except on holiday weekends. There are a lot of straight sections and gentle curves. There are no sharp corners. The route is very scenic with mountains, forests and lakes. There are two provincial parks (Blanket Creek and Arrow Lake Shelter Bay Site) with camping at both, and lake access is mostly restricted to them. There can be a long wait to board the free ferry at Shelter Bay.
Galena Bay to Nakusp, Hwy 23
The highway from the Galena Bay ferry terminal to Nakusp consists of good pavement with paved shoulders. There is a mix of straight sections (less than 1 km generally) and gentle curves. There are some sharper curves, but not many. It's a nice scenic and relaxing ride. The speed limit is 100 kph along the two-lane highway that usually has light traffic. There can be a long wait for the ferry in the opposite direction, especially at the end of a long weekend. There is no priority loading for motorcycles.
Nakusp is a small town (pop. ~1600) with full services and is situated along the east shore of Upper Arrow Lake and surrounded by mountains. It's worth spending some time wandering around the town. There is a really nice park with a sandy beach and waterfront walk. There's a municipal campground too. You may also wish to visit Nakusp Hot springs.
Nakusp to Fauquier, Hwy 6
Hwy 6 from Nakusp to Fauquier and the Needles Ferry is two-lane with a speed limit of 100 kph. The shoulders are paved closer to Nakusp, but further south they're gravel. There are some long straight sections and gentle curves. There are some sections with tighter curves (60 kph), but not many. The pavement is generally in good condition, but it is a bit rougher / coarser than further north. There are three provincial parks with lake access along the way. There is gas and food available in Fauquier. The ferry at Fauquier runs every half hour during the day, and less regular at night. The ferry wait is usually short.
Vernon to Needles via Hwy 6
BC Parks
Inland Ferries
All Photos