2010 Suzuki DR650SE Valve Adjustment - Page 1
Article Last Updated: May 7, 2023

Next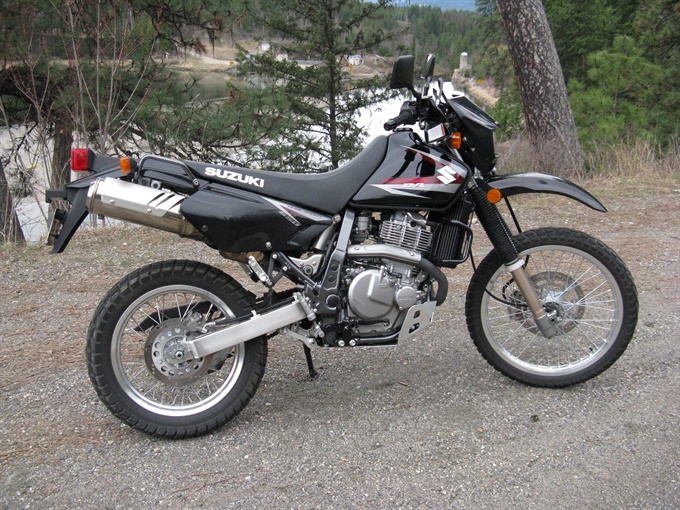 This is a step by step guide to checking and adjusting the valve clearances on a 2010 Suzuki DR650SE. It also covers replacing the spark plugs. This guide should be applicable to other model years as there have been few changes to this model over the several years that it has been in production. Check with a Suzuki dealer if in doubt.
The following is based on the author's observations and experience performing a valve clearance adjustment on the 2010 DR650SE and on information contained in the official Suzuki DR650SE service manual, 2009 (part no. 99500-46072-01E) which covers model years 2001 - 2009. I also have the addendum for 2010.
Read all of the instructions before beginning. It may be helpful to take photos of the bike prior to removing or repositioning parts to aid you later.
The service manual skips over a few points that would be helpful to know in advance. The photos in my copy of the service manual are small and of poor quality. This guide attempts to fill in some gaps, help clarify some points, provide better photos and offer some suggestions to make the valve clearance adjustment procedure a little easier.
By performing the valve clearance inspection and possibly valve clearance adjustments yourself, you can save a significant amount of money, learn more about your bike and gain the satisfaction of maintaining your bike yourself. There is nothing technically challenging about the procedure, especially since the valve clearances are adjusted via screw-type adjusters (no cams to remove or shims to replace). Use the correct tools for the job, and take your time.
Note: at about 25,400 km on the author's 2010 DR650SE, and about 8000 km since the last valve clearance check, all valve clearances were within specification but were adjusted closer to the mid-point of the ranges. The exhaust valve clearances were nearing the tight end of the range, and the intake valve clearances were nearing the loose end of the range. The spark plugs were replaced at the same time, although the old ones (original) still looked okay.
Disclaimer: While the author and website owner has attempted to provide correct information, sometimes errors occur. By using this document and following the procedures and advice below, the user assumes all risk and responsibility for injury or damage to their motorcycle. The author has been servicing his and his family's motorcycles for many years and is mostly self-taught (no formal training in motorcycle servicing). I recommend that you consult the Suzuki DR650SE owner's manual and service manual.
Parts and supplies you may need
new valve inspection cap gaskets if the existing ones are hard, deteriorated or damaged
new O-ring for the magneto cover cap (crankshaft hole cap) if the existing one is hard, deteriorated or damaged
new gasket for valve timing inspection plug (I've reused mine without issue)
possibly new spark plugs (2) if due for replacement
motorcycle engine oil that you currently use for your bike
shop towels, rags
pen and paper
a camera
Tools you need or may find helpful
accurate torque wrench (8 - 23 N.m range)
10, 12 and 17 mm sockets
3-inch and 6-inch extensions
ratchet (3/8 inch drive)
flex-bar or T-handle (3/8 inch drive)
spark plug wrench / 16 mm deep socket
8 mm and 10 mm hex (Allen) bits
10 mm box-end wrench
#3 Philips screw driver
tool for the valve adjusters which have 3 mm square ends (special tool or 3 mm open end wrench)
feeler gauges, preferably angled, to measure the valve clearances
wire gauge for measuring spark plug gap if checking at the same time
pliers to release and move the fuel line clamps
flat blade screw driver to remove the fuel line (or a fuel line removing tool)
Valve Clearances (per Suzuki DR650SE service manual)
Engine cold: below 35C (95F)
Intake: 0.08 - 0.13 mm (0.003 - 0.005 in.)
Exhaust: 0.17 - 0.22 mm (0.007 - 0.009 in.)


Spark Plug (per Suzuki DR650SE service manual)
NGK CR10E (standard)
ND U31ESR-N (standard)


Spark Plug Gap (per Suzuki DR650SE service manual)
0.7 - 0.8 mm (.028 - 0.031 in.)

Next