2012 Honda CBR250RA Oil and Filter Change - Page 1
Also applicable to the Honda CRF250L, CRF300L, CRF300L Rally, CBR300R, CB300R, Rebel 300
Article Last Updated: Nov 9, 2023

Next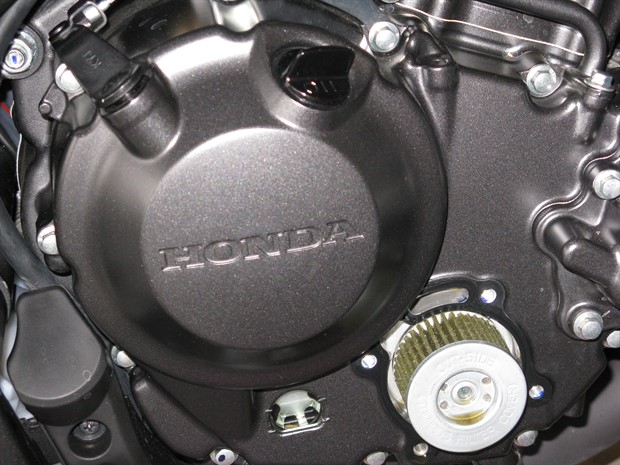 Disclosure: While the author has attempted to provide correct and complete information, sometimes errors or omissions may occur. By using this document and following the procedures and advice below, the user assumes all risk and responsibility for injury or damage to their motorcycle. The author has been servicing motorcycles for many years (not as a profession) and is mostly self-taught (no formal training in motorcycle servicing). It is recommended that you consult the factory owner's manual and/or service manual for your motorcycle.
Read all of the instructions before beginning. If you have a digital camera, it may be helpful to take photos of the bike as you remove parts and reposition others so that you can refer to them later as you put the bike back together. The following is based on the author's observations and experience performing an oil and oil filter change on the 2012 CBR250RA and on information contained in the 2011-2012 Honda CBR250RA Factory Service Manual (part no. 61KYJ00) and owner's manual. The author also has copies of the 2021-2022 Honda CRF300L/LA/LR/LRA Factory Service Manual (61K1T01) and the 2022 Honda Common Service Manual (61CSM00).
The service manuals skip over a few points that would be helpful to know in advance. This guide attempts to fill in some gaps, help clarify some points and offer some hints to make the oil and filter change procedure a little clearer.
By performing the oil and oil filter change yourself, you can save a significant amount of money, learn more about your bike and gain the satisfaction of maintaining your bike yourself. There is nothing technically challenging about the procedure. Use the correct tools for the job, and take your time.
The 2011-2012 CBR250R/A service manual states that 10W-30 motorcycle oil is recommended, but the manual also includes a chart indicating that both 10W-30 and 10W-40 are acceptable. The 2021-2022 CRF300L/LR service manual (and the CRF300L Owner's Manual) recommends 10W-30 motorcycle oil. The CRF300L/LR service manual does not include the chart that the CBR250R/A service manual does. Another thing to note about the CRF300L/R service manual is that the format of the manual has changed greatly compared to the CBR250R/A manual; the CRF300L/R manual contains a lot less description and is a lot thinner (a little over half the thickness) in comparison.
Parts and supplies you may need:

at least 1.5 litres of motorcycle specific engine oil of the correct viscosity (10W30 or 10W40
new OEM oil filter (if changing)
a new oil filter cover gasket (if changing filter)
a new crush washer for the engine oil drain bolt
shop towels or rags
disposable gloves
newspapers or cardboard
masking or electrical tape
Tools you may need (may vary by model):

an accurate torque wrench (7 - 24 N.m range)
8 and 12 mm sockets, ratchet(s), 3 and 6 inch extension
5 mm hex key / Allen key
stubby #2 Philips screwdriver
flat blade screw driver
needle nose pliers
oil drain pan or pail
funnels, one for clean oil and one for used oil
Next