Ride: Enderby to Sicamous to Revelstoke - Hwy 97A and Hwy 1
Enderby, Grindrod, Mara Lake, Sicamous via Hwy 97A, then Hwy 1 to Revelstoke. Some especially nice riding along Mara Lake and through Three Valley Gap. About 111 km. A note about Vernon to Enderby and area backroads including Enderby Grindrod Road.

Last Ridden: June 4, 2023 (Vernon to Sicamous and the backroads in between), 2016 (Sicamous to Revelstoke)
Province: BC
Region: North Okanagan - Shuswap
Route Type: Secondary Highway, Main Highway
Riding Surface: Pavement (100%)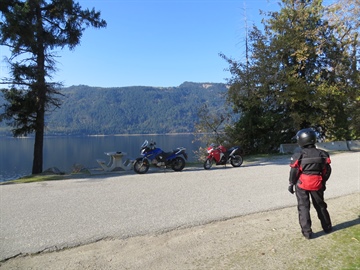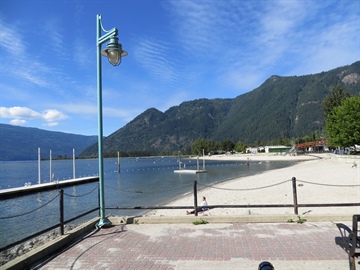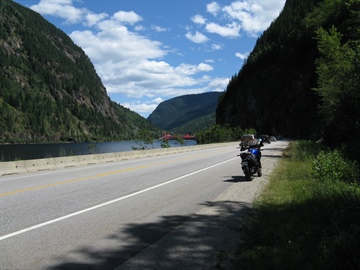 All Photos
The route follows Hwy 97A from Enderby to Sicamous, and then Hwy 1 to Revelstoke. There is a nice park / rest area on the east side of Enderby next to the Shuswap River. To get to the park, follow the signs to Mabel Lake or turn east onto Cliff Ave. which becomes Enderby Mabel Lake Road, and then turn south just before the bridge (it's a short distance, 2 - 3 blocks). It's a nice ride to Mabel Lake if you have the time.
Hwy 97A begins to get more interesting north of Enderby. The highway crosses over the pretty Shuswap River in Grindrod. North of Grindrod the road becomes more twisty. There are sections between Grindrod and Sicamous that will have you grinning, at least if you don't get stuck behind a slow-moving transport truck or RV. This portion of the highway is the highlight of the route. The highway runs along Mara Lake, and there is public lake access in a few spots including Mara Lake Provincial Park and a rest area. Mara Lake is a good swimming lake in the summer. There are also a number of resorts along Mara Lake. This is prime summer vacation area, and unfortunately that can mean a lot of traffic. You may want to time your ride for earlier in the morning or early evening (before dark). The traffic is generally lighter outside the peak tourist season.
It's worth stopping at the Sicamous Narrows (in town). This is a short section of waterway joining Mara Lake and Shuswap Lake. There is free parking and a nice park with a sandy beach and swimming. There are public washrooms here if you need one. A lot of boats pass through the narrows, and there are some benches where you can sit and watch them go by. Sicamous marks the end of Hwy 97A.
From Sicamous the route travels northeast along Highway 1 to Revelstoke, about 70 km away. Expect a lot of traffic as this is a major highway / freeway, but it's not always busy. There are some nice corners along the way, but most of the highway consists of straights and more gentle curves. Portions of the route are quite scenic with a waterfall and mountain and lake views, especially around Three Valley Gap. Craigellachie, the site of the Last Spike (railway) is about 25 km from Sicamous.
In Three Valley Gap you'll find a nice rest area with picnic tables and a beach on the shore of Three Valley Lake. The Three Valley Mabel FSR is across and up hill a few hundred metres, maybe, from the rest area; the FSR heads south and splits allowing you to travel to either Mabel Lake and Lumby or to Enderby Mabel Lake Road. At the far end of Three Valley Lake is the Three Valley Lake Chateau and Ghost Town. There are a bunch of attractions or points of interest between Sicamous and Revelstoke and the Revelstoke area. Once you reach Revelstoke, check your fuel because the next services are quite a distance away.
From Revelstoke you have a few options if you want to ride further. You can continue on Hwy 1 through the Rogers Pass, take Hwy 23 North to the Mica Dam, or you can take Hwy 23 South towards the free ferry at Shelter Bay and then onto Nakusp. They're all good rides. Remember to fill up your tank first.
Side Routes
The riding along some of the backroads between Sicamous and Malakwa is quite pleasant, if you want to do a little exploring. For example, you can take Sicamous Solsqua Road (at Hwy 1 in Sicamous) and then Cambie Solsqua Road (also intersects with Hwy 1). The total distance is about 10 km or so. As an alternative to taking Hwy 97A between Enderby and Grindrod, you can take Enderby Grindrod Road which is accessed from Enderby Mabel Lake Road - turn left (north) just past the bridge over the Shuswap River just outside (east) of the Enderby town centre. This road runs through farmland, along rural properties and close to the Shuswap River in places; it's quieter and more relaxed than the highway.
Vernon to Enderby
Hwy 97 / 97A between Vernon and Armstrong is four lanes and rather boring. It travels through a valley past orchards and Swan Lake, farmland, light industry and past a saw mill. There are some residential subdivisions as well. The highway narrows to two lanes just north of Armstrong. The traffic can be heavy at times. The road is mostly straight between Armstrong and Enderby.
There are a number of country roads in the region that are more enjoyable to ride than the highway. These include Otter Lake Road, Sleepy Hollow Road, Deep Creek Road, Canyon Road and Back Enderby Road. The latter is east of Hwy 97A and the others are west. The north end of Canyon Road is quite entertaining on a motorcycle and begins just south of Enderby. The best part of Sleepy Hollow Road isn't that long, but it still worth riding. Deep Creek Road is probably my favorite of the bunch as it's fairly long, there is little traffic, is scenic and has a fair number of corners. Back Enderby Road intersects with Hwy 97 a few km north of Armstrong and consists mostly of straight sections with some hills connected by ninety-degree corners. It travels through farmland, and is a pleasant and relaxing ride.
Revelstoke to Mica Dam - Hwy 23N
Revelstoke to Nakusp to Fauquier - Hwy 23, Hwy 6
Salmon River Road, Deep Creek Road and other backroads
All Photos